A Weekend in Ylläs – Arctic Skylight Lodge
At the end of autumn, we headed up north for a quick getaway. With no real travel plans for the end of the year again, it was good to get the feel of travelling somewhere exotic. So we hopped on a train to the north once again to stay in a glass cabin – that's as exotic as it gets for us at the moment! A new destination this time: Ylläs Finland. We stayed at the Arctic Skylight Lodge. The Lapland tourism sector has been hit hard with travel restrictions, so this is also a way we could go support them.
Booking the trip
We planned this trip only a couple of weeks in advance. It was pretty spontaneous. We also spent quite a bit on the tickets and the hotel. It's likely that you'd get a cheaper train ticket if you booked, say, over a month before. The hotel prices are fixed and probably higher in peak winter season.
This time we booked a 12 hour overnight train to Rovaniemi from Helsinki. A sleeper cabin for 2 people cost 150€ one-way. Return was a bit cheaper, 119€. The national operator VR runs this route regularly. You can find schedules and tickets on their website: VR-night-trains
Other options include the day train that takes 8 hrs to Rovaniemi (more about that in this post); a flight to Rovaniemi or Kittilä airport; or a night bus. Train is what we recommend! From Rovaniemi, you can rent a car and drive up to Ylläs Finland, a 2 hour drive away. Europcar is what we trust and hire. The car can be booked online and picked right at the station.
Arctic Skylight Lodge 2 nights for 2 persons cost 390€ (off-season price), which was paid on check-in. They are a fairly new luxury accommodation in Lapland and you can contact them on their website about bookings. Details below. You'll find me comparing it to our stay in Northern Lights Village, a similar escape we made last February. This may help you choose between the best accommodations in Lapland, Finland!
Overnight Train
We boarded our overnight train to Rovaniemi from Helsinki Central Railway station at about 11PM. This was pretty convenient as we basically just slept in the train and arrived not-too-early in the morning. It was my first overnight train experience in Finland, exciting! The train cabin was rather small and cramped but the bunk beds were comfy. The journey was comfortable overall.
You can get breakfast from the restaurant car – porridge with blueberries, orange juice, coffee/tea. If possible bring your own breakfast snack because it's expensive on the train. The return journey was also a 12 hour overnight train between Rovaniemi – Helsinki.
Places to eat in Rovaniemi
After arriving in Rovaniemi, we usually pick up our rental car and then go find something to eat before continuing the road trip. We also do the grocery shopping in Rovaniemi K-Citymarket. Quite often we stop by Rosso Italian restaurant in the centre as I love their options. There's vegan pizza, pasta, spaghetti, toast and wines. Another place we dined at on the way back was Vietnamese restaurant Saigon Noodle Bar, also right in the centre. There are a couple of vegan options – spring rolls and pho at least. Would recommend!
Arriving at Ylläs
The road trip from Rovaniemi to Ylläs was rather interesting – we saw greenery, mist and snow. And reindeers, of course (watch video below)! Upon reaching Ylläs, we see the fell & ski centre and drive along a scenic route. The weather was just perfect when we got there – clear skies and sunset with mist hanging over the valley.
Tip: Make sure you have enough charge on your phones and download Maps of the route before you start the journey! We got a bit lost at one point and there was no network in the area.
Arctic Skylight Lodge
Arctic Skylight Lodge is located in a village known as Äkäslompolo, only a few kilometres away from Ylläs centre. After the scenic drive, we arrived at the lodge around 5PM and it was getting dark. Things were a bit quiet when we arrived – the restaurant and reception were closed. The only communication we'd had with the hotel was via email and they had not asked us our arrival time. A staff happened to come by in a few minutes and called the owner to check us in.
This is a rather new place – they opened in spring 2020. The cabins are located in a row behind the reception area, a couple of minutes away.
On entering the cabin, we get the smell of new wood of the modern Nordic interiors. It's a rectangular shaped box cabin, as you can see from the outside. All cabins are the same with same facilities. In high season (winter) the prices can go upto 475€ per night! More expensive than the Northern Lights Village and the cabin was a teeny bit smaller. But! More glass. Yes, we think Arctic Skylight Lodge wins on the view (glass roof > half igloo) as it has more surface area so we could see more of the sky and surrounding forest.
Some highlights of the accommodation:
Breakfast included (vegan on request) – served in the restaurant. We got porridge/Alpro yoghurt, bread, salad & seitan slices along with orange juice and coffee/tea
Activities on site (sauna with a view – additional charge)
Restaurant & bar on site with vegan options available (it was closed while we were there)
Surrounded by nature
Glass roof
The beds were average comfy but it was cosy and warm. There's a water boiler in room so we could make instant noodles and coffee/tea. There was no minibar or fridge though. You can always keep your beverages out in the snow to chill..
The bathroom was neat and like a glamping toilet. Running hot water, eco & vegan toiletries (handwash, shower get and shampoo) – plus points for that!
Book Arctic Skylight Lodge on Booking.com (Rated 9.3)
At night, we waited for the auroras. The forecast predicted an aurora storm on night 2 but it was very cloudy then.. ugh. On the first night we did catch a glimpse of some green in the skies from the cabin as you can see in the gallery below. Moreover, it was so clear on the first night that you could see a million stars! It was a real feel of luxury.. what a lovely 2-night escape!
Their website: Arctic Skylight Lodge
Ylläs Centre
Ylläs is located in one of the national parks of Finland – Pallas Yllästunturi, which encompasses a couple of large fells and a few lakes. A great area for hiking and biking during summer.
So what's there to do around here? We only stayed a couple of nights and had 1 full day in town. Our cabin was so nice that we didn't want to be out much and winter hiking/skiing was not on my list of things to do.
Fun fact: The world's purest air has been measured here. So make sure to take a deep breathe in!
September – October is a good time to visit this area in Lapland because you have a great chance to see the northern lights. Plus you can catch the autumn colours. The first snow falls in October – November in Ylläs Finland and we were lucky enough to be there at the first proper snows. The driving conditions weren't the best but there was no big problem getting around.
There is a K-Market in town if you need to buy groceries. A big reindeer statue stands in front of it. For lunch, we found a good spot – Public House Restaurant & bar – serving up some vegan pasta and beyond burger.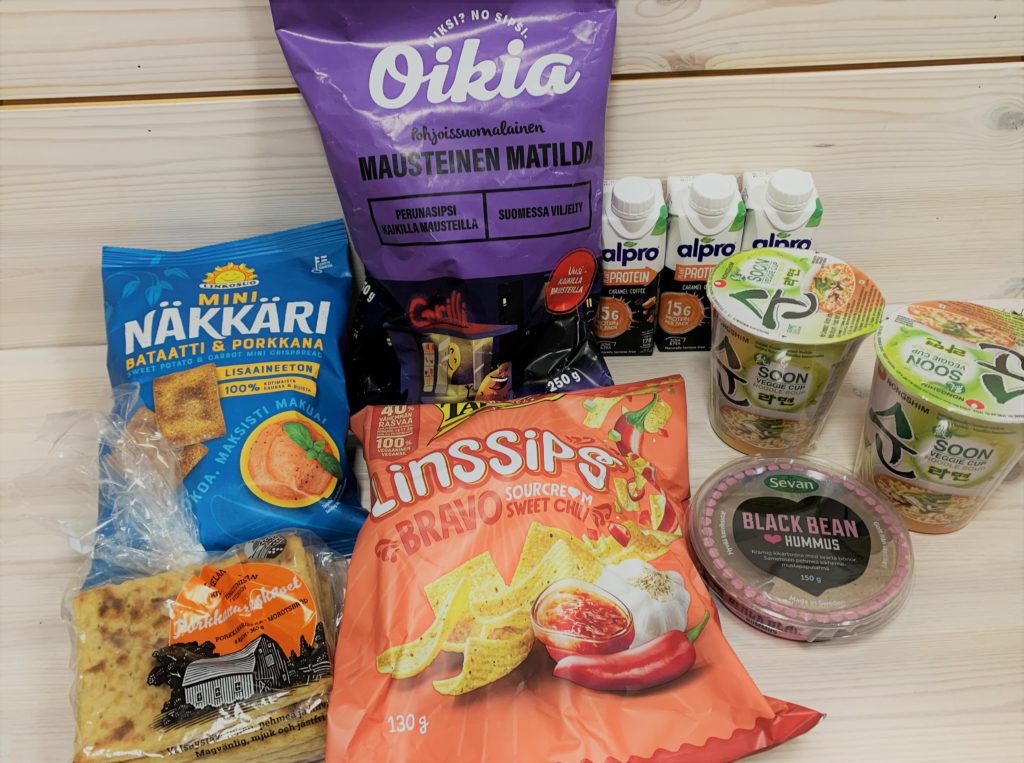 Visit Kellokas tourist centre for some art & culture! There's also a logging museum next to it. Entry is free to both and you can catch nature films, art galleries by local artists and a museum.
Hope you enjoyed reading about our journey! Any questions or comments? Drop them below!
This post may contain affiliate links, which at no additional cost to you, earn the blog commission if you do make a purchase, thanks!
Last updated on January 16th, 2023