Welcome to sunny, sandy, antique Cycladic gem – Ios! We made a stop here for a couple of days between Paros and Santorini. Read about our experience in this post and also find out what's vegan in Ios island!
We mostly hung out at the beach (which is what we wanted to do) and ate some good food at Harmony Ios. So my post is going to be mainly about that. We decided between Ios, Mykonos and Milos at the last moment and I'm glad that we made the decision to stop by Ios.
Ios made the perfect en route stop between Paros and Santorini during our journey. It also felt like a more traditional Greek island with characteristic Cycladic architecture and local vibe.
How to Get to Ios
Ios island has a pretty central location in the southern Cyclades group of Islands. A couple of ferry operators go between the islands on daily basis (Golden Star ferries and Seajets). We booked the Seajet World Champion Jet from Paros to Ios, which was the fastest – 35 minutes between the islands. There is no airport on Ios, so if you're coming from the mainland, you have to come via Santorini, Paros or Naxos.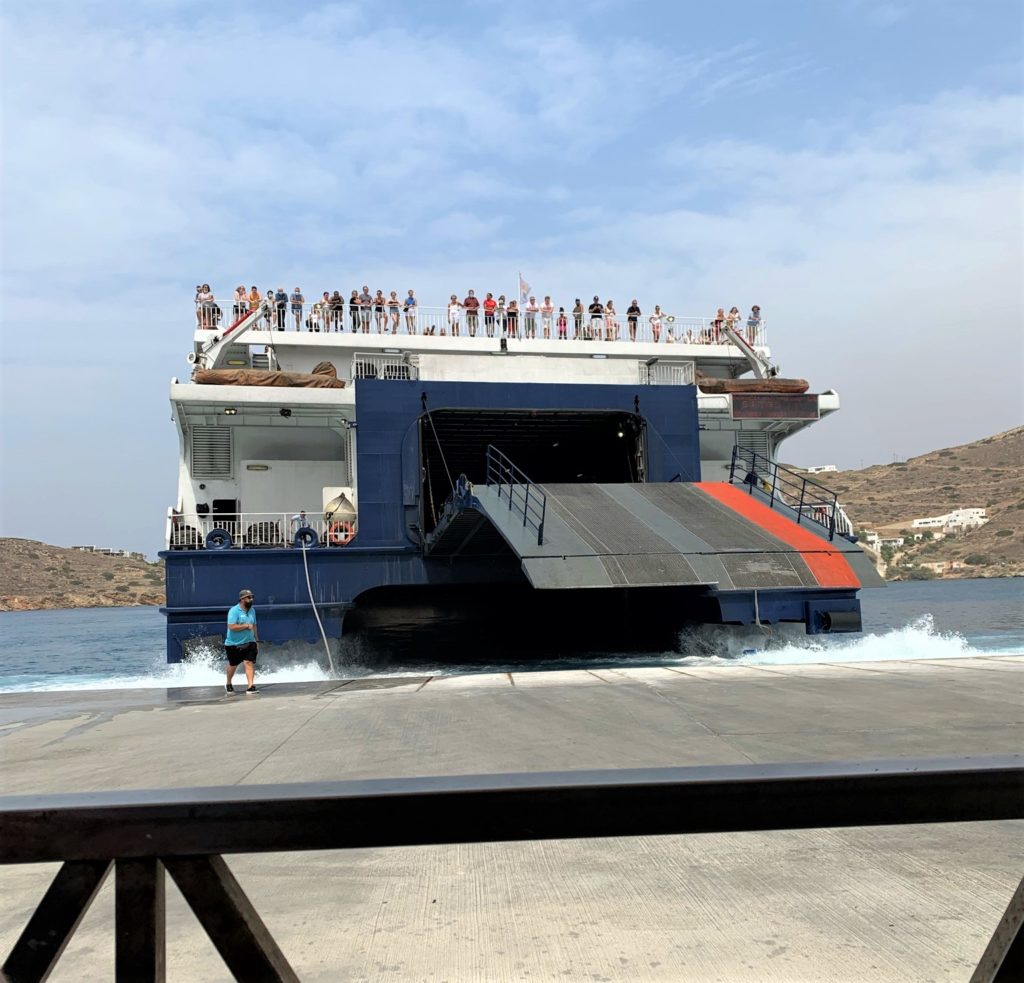 Where We Stayed in Ios
We didn't spend a lot of time searching places in Ios since this was a last minute decision. We filtered to search budget hotels by the beach and not far from the port as we were only a couple of nights. And we wanted to spend the day out on the beach. Deep Blue Mylopotas seemed like the perfect choice.
Deep Blue Hotel is a small family run accommodation providing budget rooms and apartments. It's right near Mylopotas beach and we walked to the hotel from beach when needed. The staff warmly welcomed us and also transferred us from and back to the port! This is included in the stay.
I don't have any good pics of the room because we hardly spent any time in! But we can say that it was just what we needed for the 2-night stay. A basic Double room with private bathroom. Everything worked and the service was good. Our room had it's own exit from the side too and it faced the hills and a field with sheep.
Deep Blue Rooms and Apartments on Booking.com (Rated 9.2)
*this is an affiliate link using which you can make bookings. At no extra cost to you, I may earn a commission that helps support the blog, thanks!
Where We Ate in Ios
Right by Mylopotas, standing out on a cliffside, is Harmony Mexican themed restaurant. This place caught our eye in the begin and when I checked it on Google, I was surprised they had a lot of vegan options. We headed there the very first evening for dinner.
Harmony Ios actually has a whole vegan menu! And a variety of tasty food – fried Jalapeno, spicy falafel, Black bean sliders, baked corn, vegan feta toast, acai bowls and smoothies for brunch. Check out what we tried in the gallery below! They also have live music evenings. The restaurant is on 2 levels with open seating facing the bay – absolutely perfect.
We ate at Harmony more than a couple of times – highly recommend in Ios! Since we were in Ios only for a couple of days, we didn't get a chance to try out many places but Harmony is one you can dine at more than once!
website: Harmony Ios
What to Do in Ios
Mylopotas Beach
Mylopotas is one of the popular beaches of the island – a 1 km stretch of sand in a good spot. It offers various water sport activities, and is great for swimming and snorkelling too! Other nearby beaches are Koumbara and Gialos, both also near the port of Ios – maybe worth checking out. We loved Mylopotas and spent all of our beach time there 🙂 Manganari beach was suggested to us by locals but we had no time to get there. It's a beautiful set of pristine sandy beaches on the south coast of the island – worth visiting if you can!
Chora, Ios
The 'capital' town of the island is near the port and not far from Mylopotas. A bus takes you there for 2€ ticket/person. We didn't rent a car on this short trip and it was easy to get around town on foot! The bus stops next to this traditional settlement:
Don't miss sunset from the Ekklisia Panagia Gremiotissa (Church of Virgin Mary of the Cliff) viewpoint!
Streets of Ios
The charming streets of Ios! In Chora, you will find lovely walkways, eateries and boutique shops. See pics below. Also find a spot selling vegan treats 😉 We didn't get any at the time as the chef was on holiday.
Ios is also home to some ancient sites and apparently the place where the tomb of the poet Homer lies. The Tomb of Homer lies in a northern site of the island. This site is worth checking out if you spend more time in Ios and so is the ancient settlement site at Skarkos. The lighthouse of Ios and Manganari beach mentioned before, are places of tourist interest too!
.
.
That's all for our Ios experience! Have you been to Ios? What did you like about it? Drop comments below.
Join our support community at Buy Me a Coffee! <3
Last updated on July 24th, 2023