Facts + tips travelling to the Greek Islands
Our first long holiday in over 1 and a half years.. in other words – My Big Fat Greek Vacay. I've had Greece on my travel-list for a while (who doesn't?) but Santorini.. I didn't really want to think about it. It's known to be touristy and I get nervous of going to very popular destinations with crowds of tourists. What can I write about or photograph that hasn't already been photographed? After the last year's situation, we were waiting to travel somewhere and I thought about Santorini – it's now or never. Read about our experience travelling to the Greek islands in this blog post!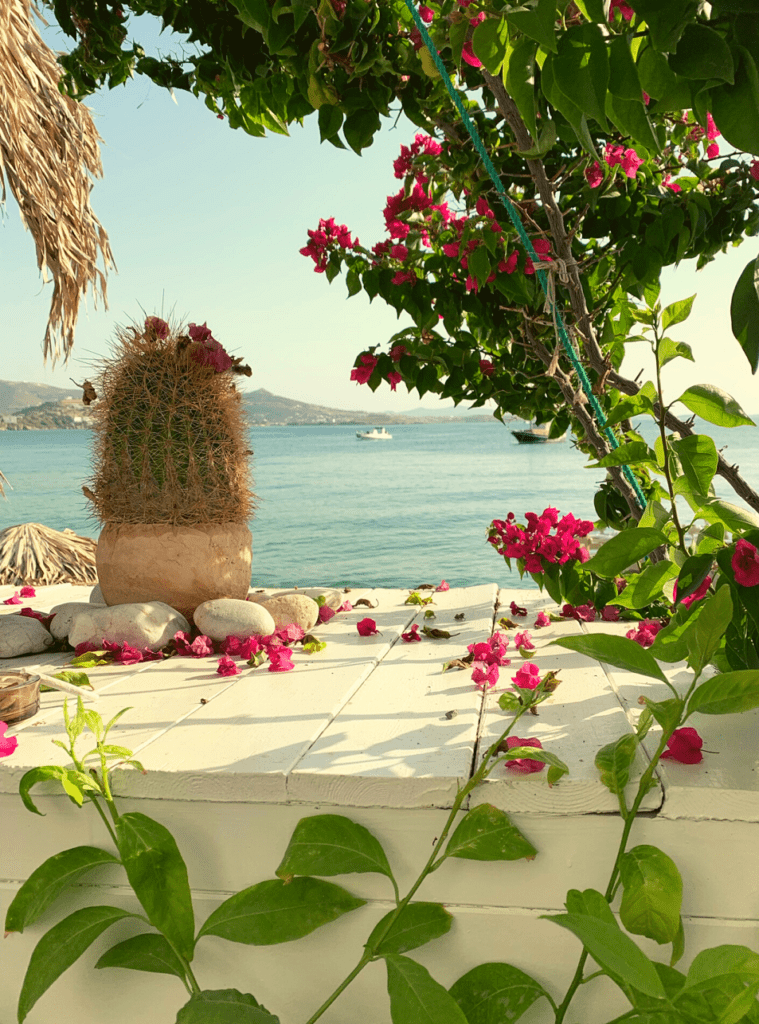 It took an effort to get here, in a way, and I almost gave up on planning this trip a few times. Some change of situations and other stuff made it seem like the not right time. But would the right time ever come, with viruses and wildfires raging year after year?
Initially, we booked a direct flight to Crete which somehow didn't confirm and Finnair customer service didn't give us an explanation. We didn't rebook but instead found a better fare with Norwegian to Crete. This flight was cancelled a week later as Norwegian Air halted their operations. The covid situation didn't seem to be improving either with EU promising the opening of travel this summer etc. Restrictions were still in place and rules kept changing.
Getting there..
Finally we found a new direct route: Helsinki – Santorini (campaign prices in Finnair) and thought, this just might work. It was a stressful pre-trip time in a new way. We had nothing except flights booked until a few days before the departure – all we knew is that we would stay at MOD.
The deciding factor for this trip was actually – MOD Santorini, the famous islands' first eco-conscious vegan hotel. They officially open mid September and MOD + Veganhaven have come together to bring the news to you!
We planned to stay in Santorini on our first week but these plans also changed in the last days before the trip and we made a whole new plan – Paros! In Paros (also part of the Cyclades island group), we went to Okreblue Yoga retreat, an experience in itself. We stayed in Santorini 8 nights before the flight back to Helsinki. It all seems surreal now. After a year and a half of restricted life, spending a whole winter in Finland, long hours indoors, little social life and events, it feels great to go out into the world and travel again!
Our Helsinki – Thira (Santorini) flight was a straight route and took 3.40hrs. Greece isn't actually that far from Finland! There's also no time difference. The flight route took us over the islands and we had a nice aerial view of them.
For Greece, as of July – September 2021 the requirements are: Quarantine is not required and you need to have 1 of the following:
Negative PCR-test certificate. Test taken within 72 hrs prior to arrival
Negative Antigen test certificate. Test taken within 48 hrs prior to arrival
Proof of full vaccination, completed at least 14 days before
Proof of recovery from covid. 30 days after first positive test – up to 180 days
The govt. website states the rules. I wrote a detailed post Travelling in 2021(within EU) and our experience on the supporters blog.
Facts and First Impressions – the Greek Islands
Here we come to the part where we travel and arrive to the Greek Islands. We chose to stay in the Cyclades group of islands and explore a few of them. Avoided the mainland and didn't manage to visit Crete this time but would love to go to there next time. We stayed at Paros, Ios and Santorini. This was my first time in Greece and there are always some interesting observations when you visit a place for the first time.. Here's my collection:
I wouldn't have guessed that there are so many narrow, winding uphill roads here. Santorini is sadly also known for a lot of road accidents related to tourists and atv's (the buggys that people can rent around the island). The drive up and down from the port area is bit tricky. This is also why we chose not to rent and drive any vehicles on this trip and mainly used public transport and taxis.
Barren landscapes, little greenery
Didn't expect the almost desert-like landscape and feel on the islands. If you view them from the plane you will already notice there's little greenery. They seem barren and uninhabited. The coast is beautiful though and you can see how nice the beaches are. It never really rains either! On the whole trip of around a couple of weeks, it rained like once, very lightly and for a few minutes, in Santorini. Paros has some trees and greenery compared to Santorini. In Santorini, it's hard to find shade if you're on a hike.
No drinking water available / plastic bottles everywhere
There's a scarcity of fresh water on the Greek Isles. There aren't places where you will find filtered water available for the public. This leads to everyone buying plastic bottled water and that's not good for the environment. Recycling isn't really a option and some plastic trash ends up on the roads and beaches as well. A new problem is also face mask trash which are lying around everywhere and this makes me mad.
The Wifi doesn't really work anywhere. Many places offering free wifi but starting from the airport – we weren't able to connect or access the internet. At times it does work, but only for a short time. We tried using our mobile network (having EU roaming) but the signal was poor. This was our experience on all the islands.
Schedules and times not followed
This must be shocking fact, esp. for Scandinavian tourists. 😀 Coming from a place where everything runs on time, it was a new experience to be constantly waiting around. Buses don't come on time, sometimes the ferries are delayed too. Even taxis may not come at the time you requested pick-up. On some islands, taxi services are limited and it might take forever to get a taxi.
The Greek Islands are not exactly a budget destination. Especially Santorini, which is probably the most expensive of the islands. We were surprised to find prices almost the same as in Finland. This is true mainly when it comes to accommodation and dining out. Be prepared to pay 6€ for a smoothie,15€ for a drink and 30€ for dinner. This was probably our most expensive trip to date.
On our first day/night on Paros island we were troubled by a high, terrible alarm-like constant ringing. Figured that they were the resident cicadas that were all over the trees. It's tough to spot them and they don't move around much but it's still terrifying XD. They are giant bugs that make an alarming sound and can be heard all over the island (they weren't in Santorini due to lack of trees).
Before visiting any country I try to learn a few basic words but with Greek I had trouble remembering anything except 'Kalimera' (good morning). It somehow seems like a tough language and the words are not so obvious. Yes is Ne. They also have a script so you won't be able to read anything.. unless you studied a lot of Physics, like us ;).
All buildings/houses are similar
You've seen the typical photos from Greek islands with their white and blue blocks of buildings and churches. It's real. The buildings on these islands all have a similar structure and look – low rises with whitewashed walls and blue domes and windows. They are actually a trademark of the Cyclades. Oh, and there are a lot of churches.
The 'traditional' tourist trap
All tourists must be aware of what's really worth buying and what's not. With almost all shops claiming to sell something traditional and local, you might fall into the trap of buying a random bunch of useless souvenirs. Most stores advertise their products as local and traditional. But make your informed, ethical choices.
Free-pick up or transfer from your hotels
This was a pleasant surprise – most of the hotels we stayed at offered a free transfer from port/airport on the island. This was quite useful and saves you time and money. Our first place in Paros as well as in Ios, booked through Booking.com – communicated with us before the trip. We notified them of our arrival time and place and they were waiting for us at the port!
Can't flush down toilet paper
Head's up, Nordic travellers! We have good plumbing systems but in Greece, you are going to cause a problem if you throw all that toilet paper in. It's a bit inconvenient but use the trash bin. There are signs telling you to do so, anyway.
This is more like a funny thing you may notice wherever you go, like restaurants, bars, ferries and other public areas – they are always playing cover songs on the music system. We heard the Pet Shop Boys, Dire Straits, The Doors and Bon Jovi all in a soft slow – pop version by a cover-band. Some were nice whereas others, well, not so much.?
Some tips for you when travelling to the Greek Islands:
Keep cash with you: Euro € is the currency used in Greece and make sure to keep at least a few hundreds in cash with you and some change. Some small shops don't necessarily accept card and in some far out places, the card machine may not work. For buses – you need to pay in cash. A ticket costs a couple of euros or less so have some change ready in hand.
Carry your own or buy a reusable bottle: Please don't contribute to the plastic trash problem there. Conscious tourists don't trash the places they visit. Ask your accommodation if they provide filtered water (it's better to stay at those that do). If your accommodation doesn't provide purified water, maybe buy one huge 30L bottle from the store or boil water with a kettle in the room. A reusable fork/spoon would also come in handy.
Don't plan to do too many things in one day: Life is taken slow in Greece. Delays are bound to happen. Buses and other transportation may not be on time. If you plan on one activity after another on the same day, things might not work out! Leave enough time between events. It's also good to take it slow and just have a couple of things to do in a day.
Reserve a table for dinner: Things are busy during summer season, especially in Santorini. If you think about going to your favourite restaurant with a view, chances are it's packed. Call and reserve a spot at the restaurant a day or two before.
Communicating: The people are in general very nice and they speak to you in some basic English.. but English is not widely spoken. There may be some misunderstandings so try speaking in easy, clear English.
Use public transport buses: We found this the best way to get from point to point. It's also cheap. Even if they are not always on time, it's comfortable once you get in the bus. Drive cars, scooters etc. on these roads only if you have experience. Quad bikes can be risky especially in Santorini.
DO NOT use the donkeys or other animals! This is an outdated practice still happening and the animals are suffering in the heat all day carrying tourists. They are often beaten and tied up to a wall.
Have good hiking shoes with you: Even if it's summer, sandals are not great for walking on the rugged paths of these islands. No to heels. In Santorini, if you want to be comfortable, wear good walking shoes or sneakers. Steps are dusty and uneven. I wore wedges a couple of times but it's ok when you're not planning on walking far.
Travelling to the Greek Islands..
That's for our tips. When was the first time you visited Greece or the Greek islands? What were your first impressions? Feel free to share in the comments!
I have so much more to share with you from the Greek islands.. it would be awesome to have you support the blog:
Last updated on October 11th, 2023