Vegan in Tallinn Old Town
How have I not mentioned Tallinn on this blog before!? It's one of my favourite places in the world. The Old Town of Tallinn is simply beautiful.
Once upon a time, the Old Town was also very vegan-friendly, considering there were at least three vegan restaurants and cafés in the area. But ever since this thing called corona came about, along with all the restrictions, one by one these business shut down. Now we are left with maybe one, from the original list I had here. I will still have them in memory.
We used to dine at these spots on every visit to Tallinn and can't get enough of the delicious stuff they offered. So here we present some vegan Tallinn Old Town eats:
1- Vegan Restoran V
Rataskaevu 12, 10130 Tallinn, Estonia
Welcome to some fine-dining in the middle of the medieval town! Restoran V, the first vegan restaurant in Estonia, is super popular among all and often fully reserved. So make your table reservation a few days in advance! You can take-away or have the outdoor seating (in summer).
The creativity of the dishes and flavours make for an all-round culinary experience. They also serve wines, other drinks and some exquisite desserts. The indoor restaurant area is small and intimate. Definitely recommended for that date-night. From the Menu, we've tried the starter snack platter (smoked tempeh, artichoke hummus, cashew cream cheese, vegan feta, olives, veg and papadum – nom!), their creamy soups and for mains various dishes including seitan and beet patties.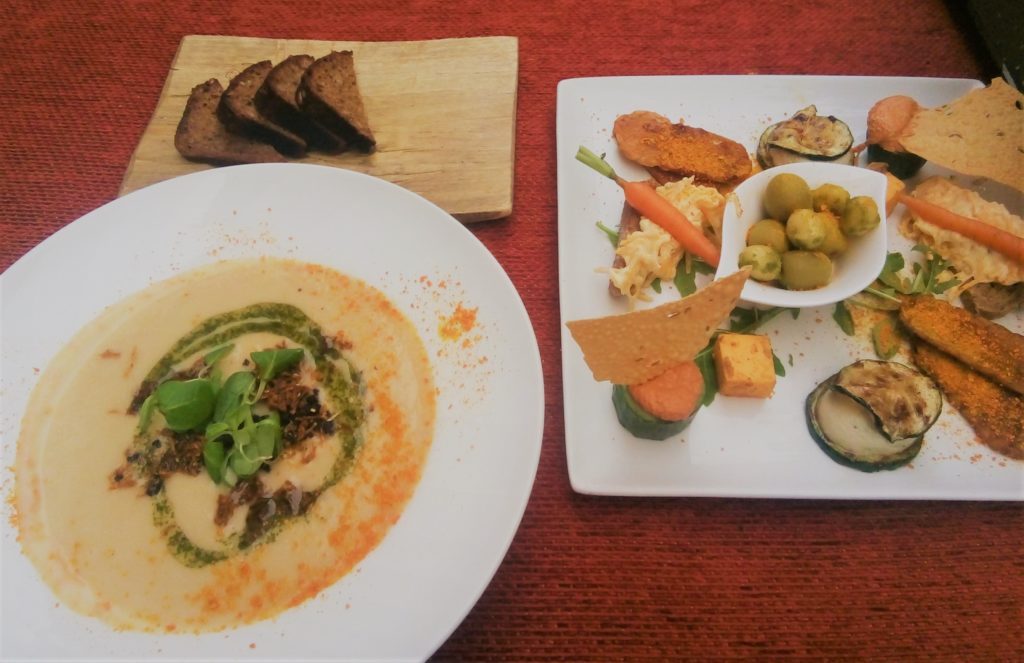 Restoran V's Website
2- Kohvik Must Puudel
Kuninga 4, 10146 Tallinn, Estonia
Bang in the centre of the old town of Tallinn, you'll find this popular Finnish themed (they do have a lot of Finnish branded furniture and art indoors) café called Must Puudel, which translates to 'black poodle'. The symbol of the café is a black poodle and they are dog friendly!
Their menu is not fully vegan but has several vegan options available all day! They also have many plant-milks to order with your beverages. We went in for breakfast when we arrived to Tallinn on our day cruise from Helsinki. The chickpea pancakes and chia pudding were delicious.
3- Chakra – Indian Restaurant
Bremeni käik 1, 10123 Tallinn, Estonia
You will find several Indian restaurants in Tallinn old town, but Chakra is the best in my opinion! Their food is authentic Indian – take it from me! The interiors (and music) are very Indian too, the service is good and it's a lovely restaurant all-in-all. You must dine here if you love Indian food. Menu – unfortunately this not even a vegetarian restaurant but they have a lot of good options, clearly mentioned vegan. Many of the vegetarian dishes can be made vegan on request. I always have the samosas, veg biryani, aloo paratha and chana masala!
Their Website: Chakra.ee
How about grab some nice cream from Gelato Ladies nearby after? They are located on Uus 28 and have some dairy-free choices.
Oasis Restaurant (RIP: June 2023)
On the way back to the harbour on our Tallinn day trip, we stopped by here for lunch. Oasis is a relatively new plant-based restaurant in town! The location of the restaurant is great, right on the path between the Old Town and ship terminal, in Rotermanni Quarter – a 10-minute walk from the old town centre. The interiors are like a calming oasis, with plants and pots all around, good vibe music, and there was also a parrot living there!
The menu is innovative with a variety of options, a bit on the fine side and prices are above average. A lot of dishes were unavailable at the time and we ordered the naked Mexican chipotle flavoured veggie burger and spinach pie. I really don't know why naked burger as I really missed the buns, haha! The pie was intricate and an unexpected flavour bomb. I also had one of their detox juices which was refreshing.
Vegan Inspiratsioon (RIP: April 2022)
Lai 44, 10133 Tallinn, Estonia
The welcome signboard here says it all! Yes, hunger inspiring menu filled with a variety of dishes to choose from. I've been here on many occasions and still have to try so many things out. There's healthy brunch options, smoothies, bowls as well as burgers and tortillas in addition to starters, salads and soups. Also, the beverages are really nice – refreshing coffees, teas and drinks. What's more, they have a great selection of desserts and cakes. The vibe of this place is relaxed and friendly and the staff are super nice.
Lisanna Vegan Coffee Shop (RIP: October 2021)
For a more relaxed and chill setting, head over to Lisanna's – a trendy little café behind Plate Torn (tower). I was there in July 2020, when I took the above photos. Had an iced coffee and one of their toasties (priced at 6€). They had two branches – this and one just outside Old Town. The way to Lisanna Kohvik (Kohvik means café in Estonian) was a lovely to walk through the old town streets on a warm sunny day.
Vegan in Tallinn Old Town
That's for our vegan Tallinn Old Town experience! These restaurants are well worth visiting and if you do have the time, check out these spots just outside Old Town:
Veg Machine, VegB12 café, Rohe Kohvik in Balti Jaama marketplace. Commune Café has vegan Neapolitan pizzas!
.
Tallinn is quite vegan friendly and you can find vegan options in many places. Do you have Tallinn on your go-to list or have you been there? Let me know in the comments!
---
Our favourite apps, pages and resources related to dining and travel planning:
---
*affiliate link
Last updated on August 23rd, 2023