10 things to do in Riga, Latvia on a budget
On our latest city break in early September, we visited Riga, the capital of Latvia for the first time and it was the perfect getaway. There's much to share from this trip so I gathered a list of 10 things to do in Riga based on our experience.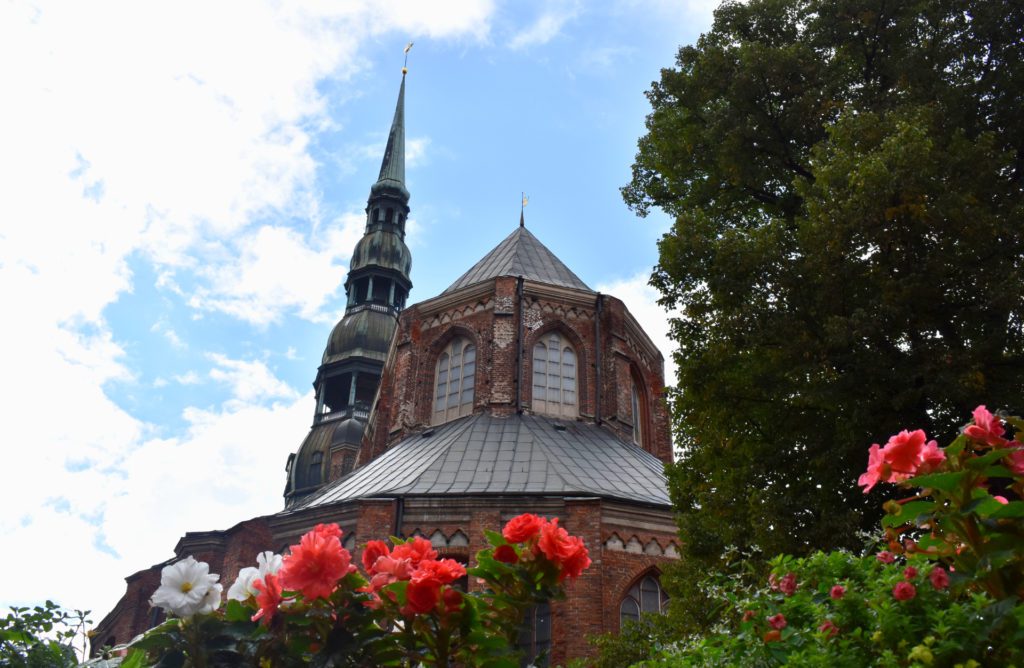 Why Riga:
Also known as the Art Nouveau capital, Riga is located in a Baltic country we had not been to previously. Having been to Tallinn in Estonia every time, we wanted to check out Riga for a short city break not far from Helsinki. Riga also has a lovely Old Town.
Art Nouveau style of architecture in Europe, applies to buildings built around the 1990s, with elaborate facades with sculptures and intricate design. In Scandinavia, it is known by the term 'Jugend' style.
We planned the trip just about a month before departure. It started with Finnair spamming my inbox with offers. Normally I don't check those but.. Then it was possible to visit some nearby countries in the travel bubble for leisure, without getting tested or quarantine. Face masks were used in indoor public spaces and transportation.
We also considered the ferry but it took much longer (overnight Helsinki – Riga) and was double the price of the flight. The one hour flight in a small plane went smooth and the airports were more or less deserted, with few flights in operation and because travel from outside EU was restricted. We arrived just outside Old Town with a bus from the airport which was only 2 EUR for a ticket.
Where we stayed:
Wellton Centrum, Kalēju iela 33, Centra rajons, Rīga, LV-1050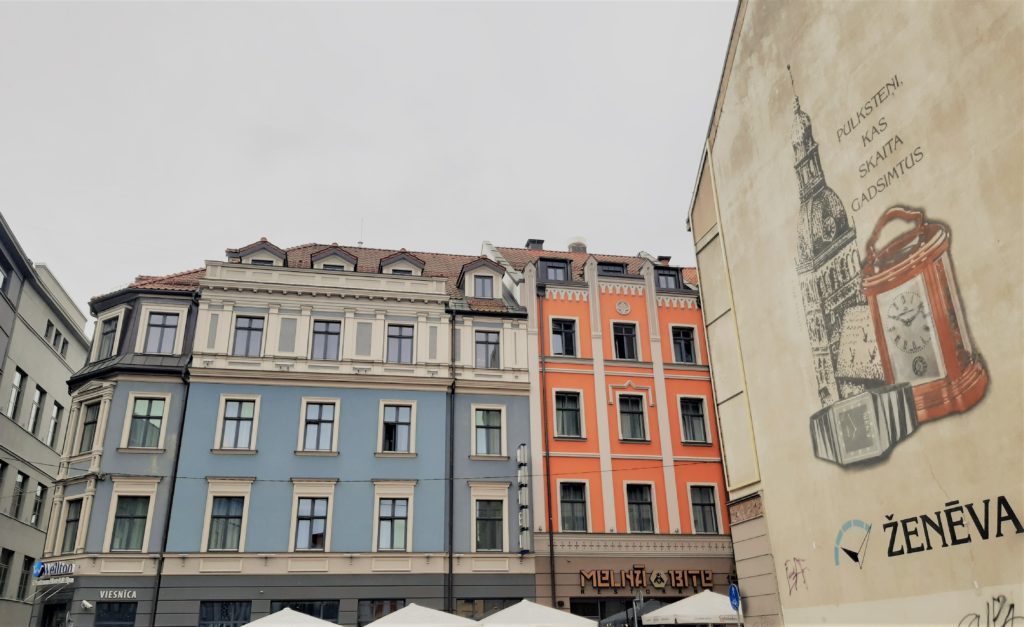 We chose to stay in Old Town for the atmosphere and didn't spend much time picking the stay. We didn't actually book Wellton and ended up there because the hotel we were booked at [Rixwell Centra] closed down. They moved our reservation to Wellton without hassle and informed us over phone. We didn't have to pay anything extra. Wellton Centrum was located not far from Rixwell – an excellent location in the Old Town, just a few minutes walk from St. Peter's Church.
We stayed in the Small Double room – basic but neat, modern and elegant. No view of the Old town as we had wanted, though. There was Spa in the hotel, at an extra cost of around 12€ per person, which we went to one evening – pretty good. Breakfast was included and served in the adjacent Melnā Bite restaurant – a standard hotel breakfast, so if you don't want to eat any animal product, you're stuck with cereal and fruit. They did have almond and soymilk on request. Either way, we skipped the breakfast some days and found better stuff elsewhere. Now let's talk about the things to do in the town of Riga!
.
.
Things to do in Riga
1. Sightseeing in Old Town
This is probably the first thing you will be doing in Riga! It is one of the Northern countries with a well-defined old town. The old town "Vecrīga" is perfect in the sense that it is packed with amazing sights and architecture and is not too large – you can easily cover the area on foot within a day, if you like. Walk on the cobblestone streets, sit in an old town café and enjoy!
Riga's Old Town is part of UNESCO world heritage. It has undergone quite a bit of renovations to be in it's current state. Some notable sights are:
Riga Cathedral: This large medieval church stands in the central square of the old town. Dome clock and bell tower.
The Swedish Gate: Known as the 'gateway to the city', this small passage was built in the 17th Century – you may come across this passage in the old town.
Three Brothers: These old houses built side-by-side are known to be some of the oldest dwellings in this area. The building is now a museum.
St. Peter's Church:
Bremen Town Musicians: A sculpture based on a Brothers Grimm fairy-tale, which tells the story of four ageing domestic animals, who after a lifetime of hard work are soon to be discarded and mistreated by their masters and they decide to run away. Can be found behind St. Peter's Church.
Our Lady of Sorrows Church, St. Jacob's Church and St. John's Church:
2. Take the Free Walking Tour
This is highly recommended and a must if you want to learn more about the sights in Old Town and not just walk around aimlessly 😉 There are free walking tours almost everyday in English where the guide will tell you a lot about the history of the place and take you to some interesting points. It lasts for about 1:30hrs. There are alternative free tours, but we would highly recommend the Old Riga tour! Check out their website at Riga Free Tours.
The Old Riga tours start at 10:00 at the entrance to St Peter's Church. The guides are local volunteers who have a passion for history and obviously guiding group tours! Our guide was super talkative and friendly, happy to answer questions about Riga. On the tour we stopped next to some important sights where the guide told us a little story about the place. Important stops:
Riga Synagogue: The only active synagogue in Riga. The guide highly recommended going in (subject to a fee)
House of the Blackheads: A popular landmark in Riga, which is a rebuilt version, basically a replica.
Cat House 'Kaķu nams':
3. Check out free museums
There are a couple of free museums in and around the old town which are worth checking out to learn about the history of the country.
The Latvian War Museum, located in the lovely Powder Tower in the old town – highly recommended. The museum is several levels, spacious and there many interesting things to note. Reserve enough time – at least an hour for this.
Latvian Occupation Museum or The Museum of Occupation of Latvia, which covers the history of Latvia's fifty-year occupation period (1940-91) under the Soviet Union and Nazi Germany. The museum packs a lot of information and stories of those harsh times before Latvia gained independence in 1991. It might take a while if you want to go through the text and displays in detail. The entry to the museum is free but a donation is recommended.
In addition, there are museums which have free entry on certain days – check out the Latvian National Museum of Art if you can!
How about take a virtual tour of the Riga Aviation museum here.
4. Explore parks and sights outside Old Town
Riga has some wonderful parks and boulevards to walk along, especially by the canal surrounding Old Town and the Daugava river.
Monuments include the Freedom Monument – a war memorial, a short walk from the old town. There are some pretty impressive churches in Riga, in the old town but also outside, like the neo-gothic style Old Church of St. Gertrude.
There's a lot of art and culture to soak up in Riga – you will come across interesting sights, music on the streets etc. Not a boring moment. If you'd like, take one of those electric scooties and explore around! It's easy to download the app and pick one. Downloading the Bolt app is highly recommended as it can be used for these electric scooties as well as cabs. Here we stopped over Vanšu Bridge to take photos.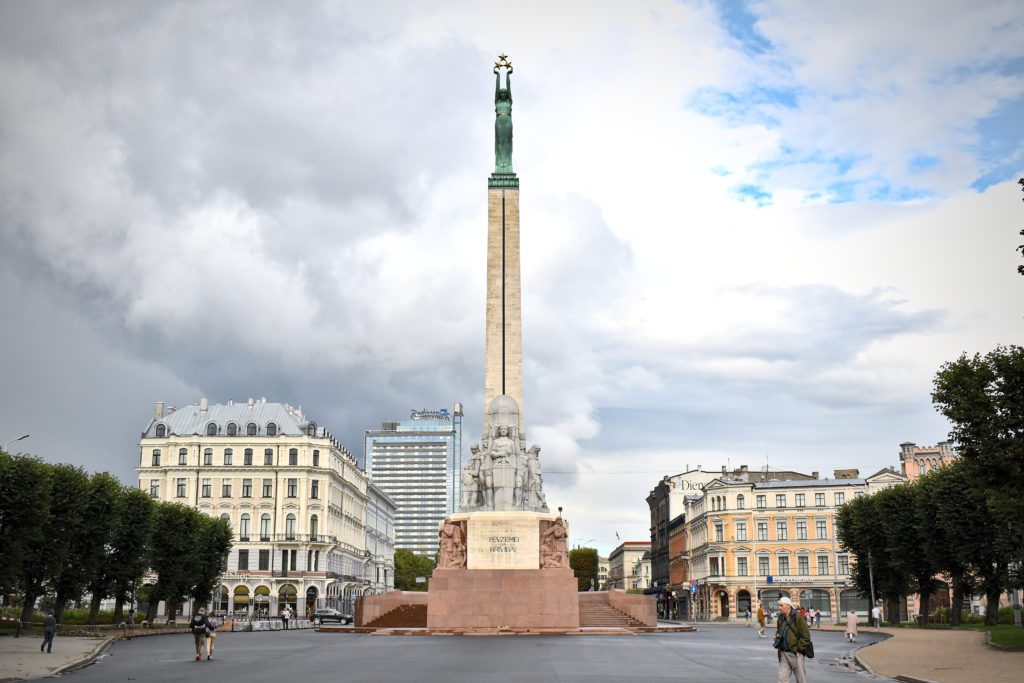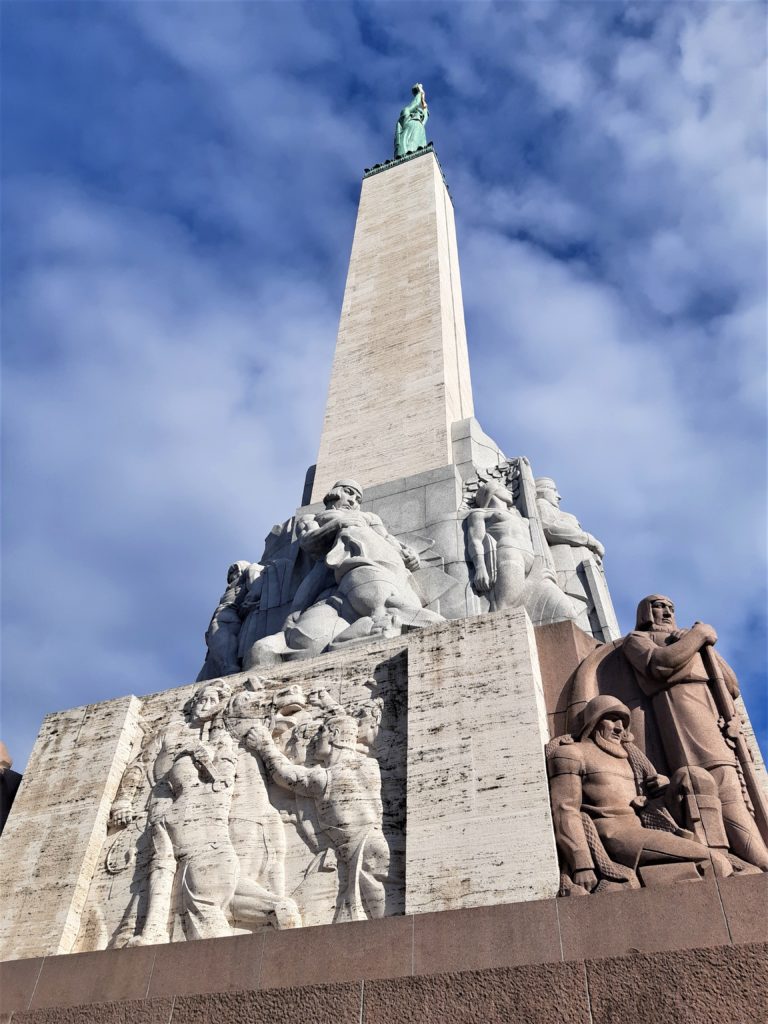 Check out the stunning views of the Old Town skyline in the gallery below, including a view of the Riga Castle and the TV Tower!
If you walk across the Stone Bridge, you can get to the National Library of Latvia on the opposite riverbank from Old Town. The standout architecture is not the only thing worth seeing, inside you can see levels with bookshelves and also enjoy a snack + coffee at the café inside the library!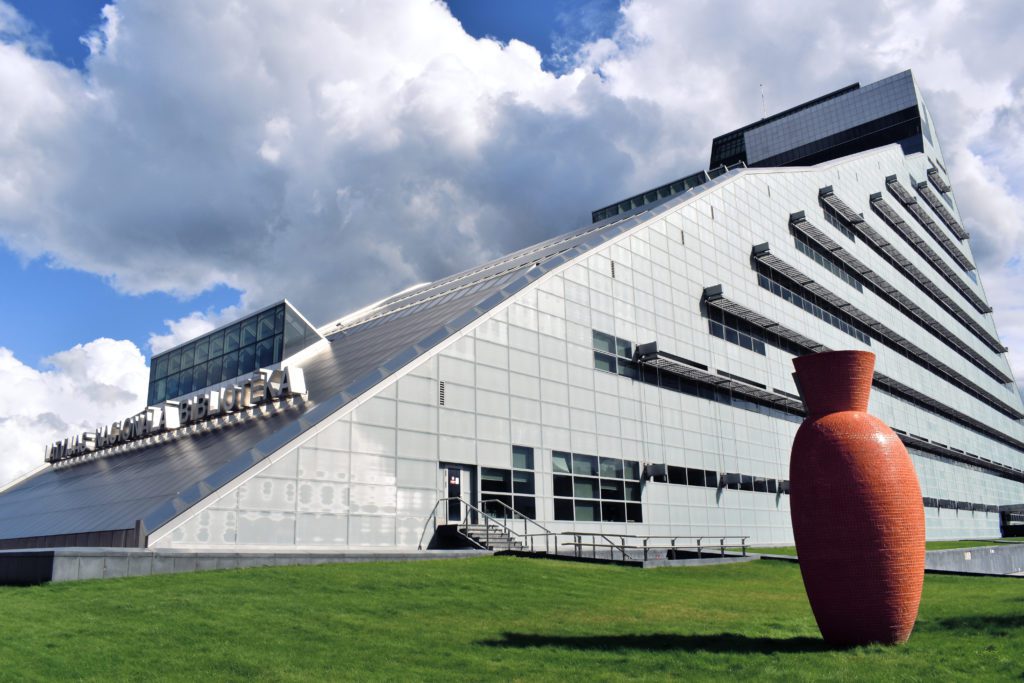 5. View the city from a Panorama Tower
You have to check out the Latvian Academy of Science tower! The historical building from the Soviet era stands distinct in Riga's skyline. A panorama viewing point at 65m can be accessed here. Open everyday from 10AM -10PM, April to November. Entry fee is 6€ / adult and you can take a lift to the 15th floor. From there, climb up stairs a couple of floors and enter the observation deck. More info on their website.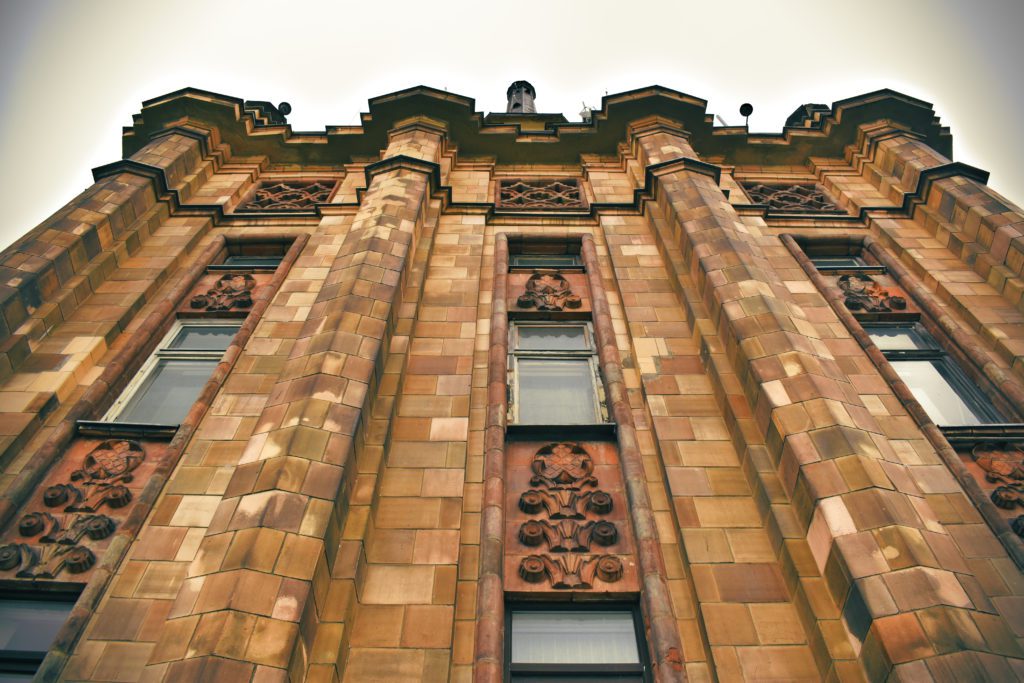 There was nobody else while we were there and we enjoyed a few minutes looking over the city, the old town and Daugava river. Most famous sights can be seen from here – there's the TV tower that stands besides the Daugava, Old Town church towers, orthodox churches, Central Market and National Library. It does get quite windy but you probably don't need to stay out too long.
Check out the gallery of the views from the panorama observation deck, below

© Veganhaven Travel 2020
6. Visit the Central Market
Feel the old market atmosphere and sample local goods, shop for fresh fruits, veggies and shrooms at the vibrant Central Market of Riga. It was on our last day in Riga so we didn't purchase anything but rather enjoyed the lively atmosphere. It was sunny and the outdoors stalls were filled with fresh produce.
The most interesting thing about the Central Market is that it is housed in old German Zeppelin hangars. This feature is also well visible from the Panorama tower and is a distinct landmark in Riga.
We also went into some of the first hangars where you find stalls selling bread, biscuits, other bakery items, more veg and herbs etc. We turned away from the other hangars with fish/meat stalls which smelled terrible and then headed back outside. Unfortunately we didn't sample anything in the markets as we were not really sure of what exactly to try and not entirely sure about all the ingredients e.g. in the stall selling Hemp products. We didn't know Latvian and doubted anyone understood English. We did find some veggie samosas right outside the markets though.
The pop-up markets in well-known Kalnciema Street Quarter is also something we wanted to check out but there were no events happening there while we were in Riga.
7. Take a day trip to Kemeri National Park
This is definitely something to do when in Riga, if you have more than a few days. We had 4 full days on this trip and decided to head to Kemeri to see the Great Bog of Kemeri – a place of unique ecology. I already have a detailed post about our day trip to Kemeri here, which you should read, if you plan to go there! It was an amazing experience (included a lot of walking). The transport to get there doesn't cost a lot, entry to park is free and exploring is free! In summer, you can also explore the beach town of Jūrmala, which is on the way.
8. Relax at an Eco Spa
I always suggest going to a spa after a long day out in the city – it's relaxing, gives you time to unwind in the city and is a good ending to your trip. Baltic States are known for excellent spa hotels. Many hotels in the Old Town had their own spa so it makes sense to go there during your stay. There are also special spas that might be worth checking out.
For example, an eco spa near the old town called Verdant Eco Spa, looks really nice. I didn't have the time for it, maybe next time. There are several eco spas as well as traditional ones in Riga that provide various treatments with peat and clay. Totally worth spending some time and money to relax.
9. Eat at one of these spots
Riga sure has some cool cafes and restaurants to dine at. To know all about these spots check out my detailed post on cafes & dining in Riga.
In and around the old town, there are limited options for food but I would recommend having the vegan burger at Hedgehog in the Fog. If you walk a bit outside the old town you can find more places to dine such as Garda Pupa – a vegetarian lunch buffet (very affordable prices).
I have to let you in on this tip – eating purely plant based food is THE safe bet. While travelling, it's especially important to watch what you eat. I'm happy to say that I've seldom had any stomach issues in the years I've been fully plant-based (except once when I worked out right after eating). I also think it's because we choose to eat relatively healthy food and a lot of vegan restaurants serve health/whole food dishes.
Extra info: Shops in Riga were surprisingly vegan friendly – at least the small department store by our hotel was filled with vegan products! You definitely won't go hungry here.
10. Check out the Old Town pubs
One one night we went for a night walk in the Old Town from our hotel and it turned into a pub crawl of sorts – because the street where we stayed was lined with bars and nightclubs (I remember the Rock Café at least, which was pretty cool) and also Karaoke bars – e.g Funny Fox, where you might hear someone sing a Finnish song 😉
If you walk towards the central part of the old town, there are fancier ones like the Black Magic Bar. Since this is a touristy area, the prices are slightly higher than in other parts of the city. Still beats the prices in Finland! Like us, you might come across the Riga Black Balsam – the national (herbal alcoholic) drink. We checked the ingredients on the official site and found a long list of botanicals in vodka and tried some but later found out it also contains honey. It was Friday night and things got a bit crazy – the bars closed early (due to restrictions) so people ended up out on the streets – it became loud and noisy.
Extra: Gallery of Riga

© Veganhaven Travel 2020
We loved Riga, there was enough to see and do, amazing architecture and nice people – we would 10/10 go back. Are you planning on visiting Riga? Save this post for later! We suggest a Baltic States trip route:
Tallinn -> Pärnu (Estonia) -> Riga (Latvia) -> Vilnius (Lithuania).
.
.
*As a Booking.com affiliate, I may earn commission, at no extra cost to you, if you book through our links. This goes to supporting the blog, Thank You!
Pin It! 👇
Last updated on June 30th, 2023