Airline in-flight meal experiences
Hello readers! It's been a while since I posted here, but that's because I was busy visiting India in the last month – I travelled to visit family after over 3 and a half years. I've had several posts in queue (from the Canary Islands, Finland and Portugal trips) but things were so busy I didn't manage to publish even one.. And now I have tons of content from India as well.
As I plan out all that content, thought I'd make a quick post on airplane travel and specifically about in-flight meal options onboard long haul flights. I'd like to share my recent experience and also hear about your experiences!
Check out our YouTube for short vlogs meanwhile: Veganhaven Travel on YouTube
At Helsinki airport before departure. ⬆
Let's talk about in-flight meals!
On this trip, I took 4 flights (2 long-haul) in total to reach my destination in India and back to Helsinki and could pre-select my meals on 3 of the flights (Finnair and Air India).
While booking long-haul they ask you for your meal choice and this is included in the ticket price. As a vegan (or anyone who truly cares about animals and the environment), we need to choose the VGML option, which in airline lingo, is the non-dairy vegetarian meal without animal products.
It's important to make sure you pre-select it as there's a chance the flight will not stock a 'special diet' option otherwise. While it would be great if the default meal served would be cruelty-free, we are far from a vegan world right now. So, remember to pre-order or pre-select your meal.
All the flights I've taken in the last 5 years have had a vegan option to select – this includes Finnair, Norwegian, Qatar Airways, Emirates and Turkish Airlines. I'm lucky to say that I've never had any real issues (I've heard awful stories of people not getting anything proper to eat on a 10-hr flight). I still carry a few snacks with me (protein bars, crisps and nuts), as any seasoned traveller would.
Meals on Helsinki – Delhi Finnair flight
This was an 8 hour 20 minute flight, with one meal served at the beginning and a snack before landing. I got my dinner meal before everyone else (the perks of pre-selecting a 'special' meal, I guess).
The default meal served to everyone on this flight was vegetarian! It was something like veggie couscous but had some dairy products on the side. Mine was completely different – pulao rice with black lentil dal plus veg korma. The side was a measly portion of potato salad which I didn't really like, bread, margarine and a small vegan sweet bun – which was nice.
Tea/coffee/juice is served along with meals and in addition, one alcoholic drink is complimentary. Finnair doesn't really have 'unlimited' beverage service – only the first drink with your meal is complimentary (with a choice of wine, beer, soda). After that, you'd need to pay per drink, which might get pretty expensive. I've previously flown to Asia with Emirates and Qatar Airways, and they provided you with more than a few complimentary alcoholic drinks.
The morning snack given to us was just a muffin (not vegan), which I didn't take and later found that they had oatmeal bars too. Anyway, I was too sleepy at the time so didn't eat anything. Overall, the food served on this flight was good but a portion that would leave an average person feeling hungry.
I then arrived at Delhi T3 international terminal, where I spent a tired 7+ hours waiting for my domestic flight to Kochi, where my parents live. I didn't find any currency exchange open, so could not obtain Indian Rupees in cash to buy stuff – luckily I had a protein bar and nut mix with me.
Meals on Delhi – Helsinki Finnair flight
The return journey was a 9+ hour flight. This route used to be 7 and a half hours but the current re-route to avoid Russian and Ukrainian airspace makes it a longer trip.
It was an early morning trip and we were served a breakfast meal and a light lunch! The breakfast was a hot Indian meal of roti (a piece of flat bread) with chana masala and a potato cutlet. On the side was a bun with jam and fruit salad (I got 2, strange..).
Another light meal was served a couple of hours before landing and this was a warm box of pasta! I was hungry by then – the previous meal wasn't filling at all – so this was a good thing! The penne pasta just had tomato puree and herbs (a bit too much parsley) but was very much eatable.
Meals on Kochi – Delhi Air India flight
I also had a meal served on one of my domestic flights between Delhi and Kochi. I'll share it here as well, in case you'd like to know. This was a 3 hour journey with Air India and you could pre-select a VGML meal. Here's what I had:
Cucumber tomato salad on the side, rice with yellow dal and bhindi sabzi (lady's finger masala) – a very homely meal. The small box was dessert which taste like jalebi – very sweet. Black tea/coffee for beverage. The portion was good and I'm glad I got a meal on this flight as I arrived in Delhi very late.
Share your experience!
Let me know about your in-flight meal experiences! Have you had better or worse meals? Was there any occasion you didn't get a vegan meal? What was the best meal you ever had while up in the air? Let me know in the comments below!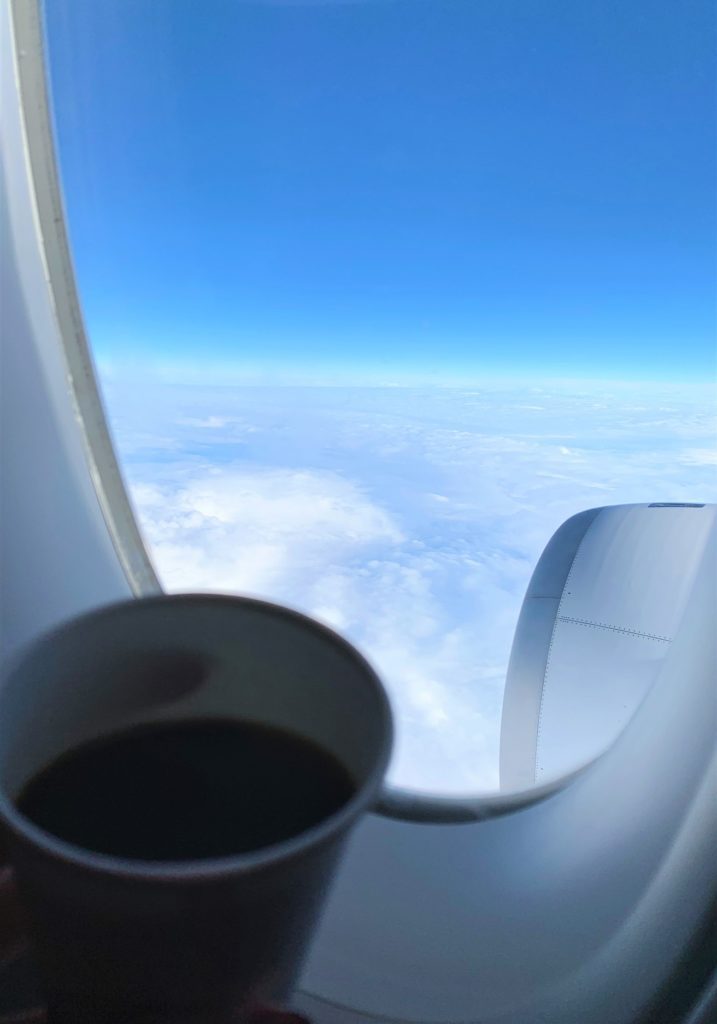 Want to be part of our little support community? – Buy Me a Coffee!
Join our vegan Discord server, chat with us and join a community of vegan travel, animal and food lovers from around the world: Discord Invite
Last updated on August 1st, 2023