Our Experience with Whale Wise Eco Tours Tenerife!
When we planned to visit Tenerife for our second trip to the Canary Islands, we knew one thing for sure – we were going to go whale watching! The first time was an amazing experience. That was also in the Canary Islands – Fuerteventura in early 2020. In Tenerife, we were lucky to find Whale Wise Eco Tours.
In early 2021, the area between Tenerife and La Gomera islands became a certified Whale Heritage site
The temperate conditions of the Canary Islands in the Atlantic make it home to several species of cetaceans! About a third of global species have been reported in the the area. Short-finned pilot whales and Atlantic bottlenose dolphins, for example, are resident species here. It's also a migration path for many species of whales and dolphins. If lucky, you might get to see transient and rare species like Bryde's whales, Sperm whales, Humpback whales, False Killer whales or even Orcas!
Undoubtedly one of the best areas to go whale watching in Europe.
Read More: Two new Whale Heritage Sites awarded in a major step for wildlife protection
Founder of Whale Wise, Mercedes Reyes, is a marine biologist and passionate about conservation of whales and dolphins. She has played a big role in obtaining certification for Tenerife to become a protected Whale Heritage site. Whale Wise thus ensures responsible whale watching and their tours also contribute to research on cetaceans and conservation practices. They have taken a lot of extra steps to make this a more sustainable experience.
Los Gigantes
Marina Los Gigantes, pontoon 1, Tenerife, the Canary Islands, Spain
Whale Wise Eco Tours leaves from the west port of the island, at Los Gigantes. It is a smaller harbour compared to Los Cristianos in the southwest – don't get confused between the two! Luckily, Whale Wise sends you an email with the location of the boat before the tour – be sure to enter it on Google Maps for navigation.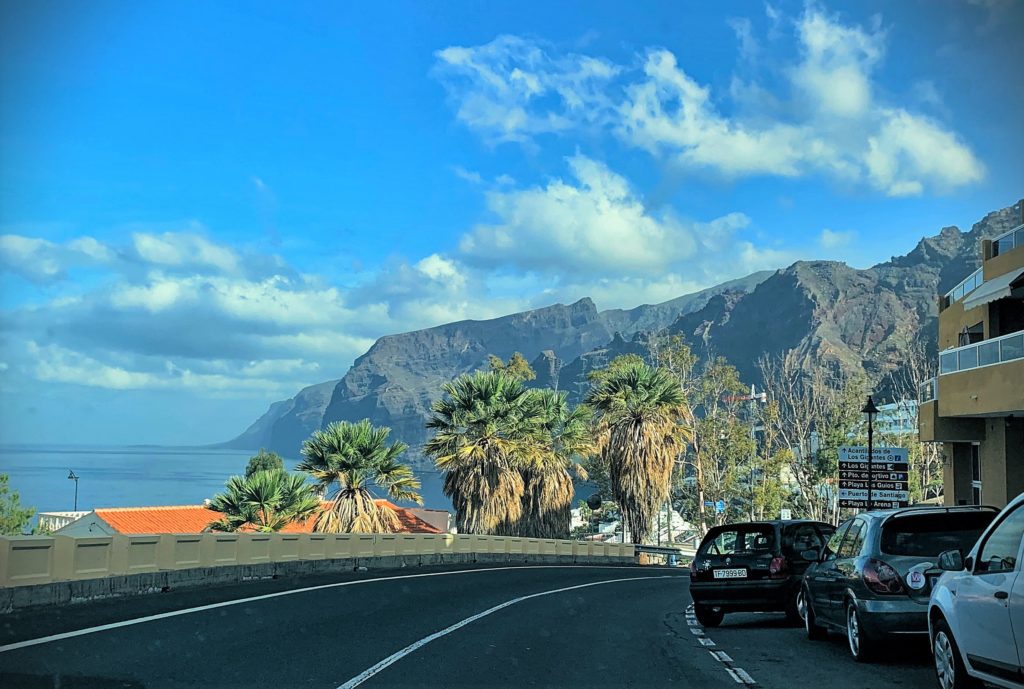 As you approach Los Gigantes, you will see the stunning giant rocky cliffs standing out! The tour boat stands at Pontoon 1 as you enter the harbour. You will find car parking spots right around the harbour area. We need to arrive at least 10 minutes before tour departure.
Whale Wise has a stand at the harbour, which is where we were waiting.. but you should go directly to the boat at departure time! Someone phoned and told us to come to the boat 🙂 Here we met our marine biologist guide Victor. He greeted us cheerfully and helped us on to the boat!
See a short video we made of the tour here: https://www.youtube.com/shorts/ddVHVenb9VY
Away we sail!
Okay, it's not a sailboat but a sort of speedboat that took us out to sea. 10 people including the crew were on board the boat with hybrid engines (2 electric engines). They use the electric motor when near the animals. Research shows that this disturbs the animals less compared to a petrol motor boat engine.
"There were no significant effects on behaviour from the quieter electric engine."
In other ways this is a sustainable, responsible tour:
Whale Wise participates in a carbon neutral program to compensate for CO2 emissions during the tour.
They use biodegradable cleaning products.
Pick out trash floating in the ocean, if they come across any.
Eco friendly snacks and beverages.
Solar panels on the boat – plus points!
I will tell you about the snacks served on board soon! This tour is as sustainable as it gets. The dolphin watching tour we had previously in Fuerteventura was also an ethical blue-boat operator but they don't take these extra steps of sustainability and CO2 compensation. It's nice to have an option to care more for the oceans and marine life.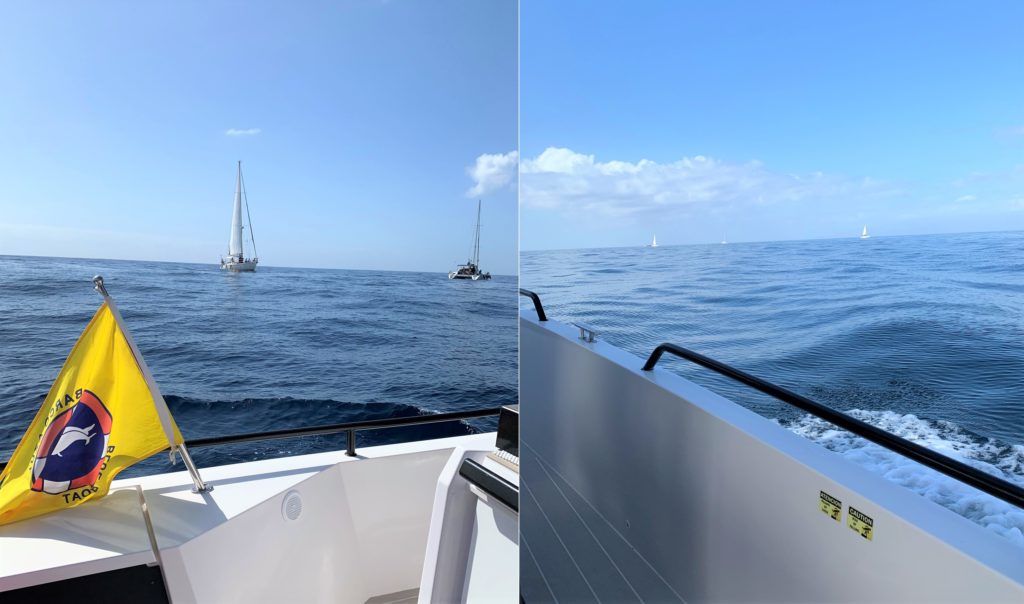 We took our seats – there are about seven spaces at the back and a sun lounge up front where you can stay during the journey. It was cloudy and windy on that day. I would suggest having a windproof jacket as it may get cold if it's not sunny. As we were heading out, the guide started to brief us on the marine life and tell us a bit about the different species in the area. I felt this was a very casual and friendly setting as well – we could ask questions and they were happy to tell us more.
First Glimpse
It was only about half an hour that we were out at sea and the crew spotted a pod of resting pilot whales. The boat slowed and engines were shut down as we approached. These guys never showed their faces, which is why I don't have a single picture of their whole bulbous head 😀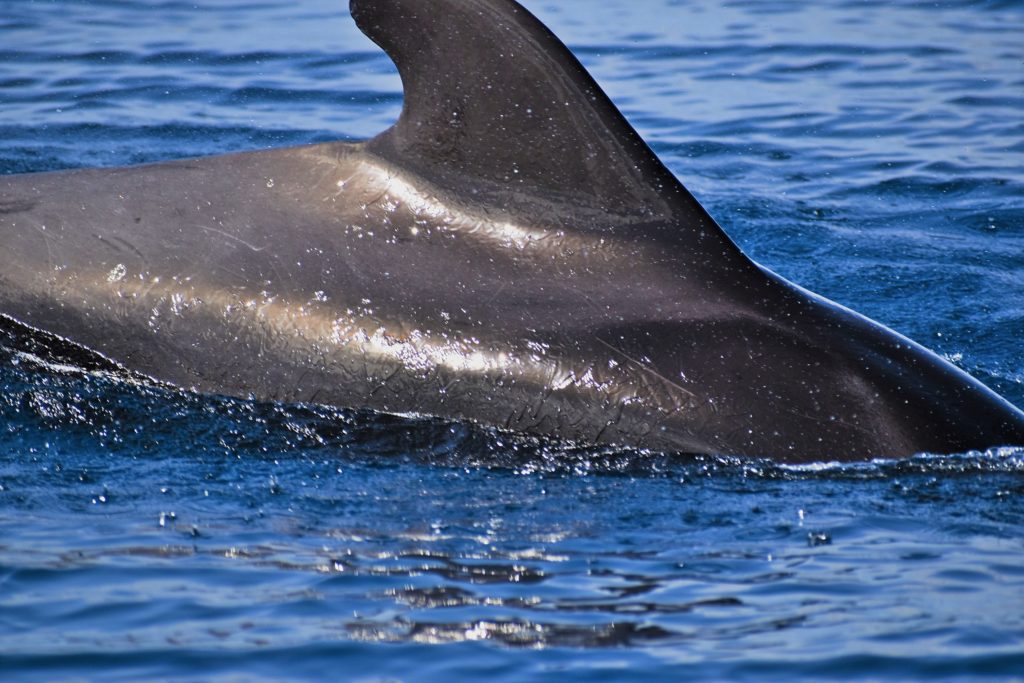 Short-finned pilot whales (Globicephala macrorhynchus) – actually a dolphin – are highly social animals that live in family pods. The pod we sighted likely had a calf. In my photos below, you can see the pod resting at the surface! They didn't seem to be swimming but just hanging out in one area. The boat slowly passed by and one of them (who was awake) eventually came by us and dove under; seen in this video: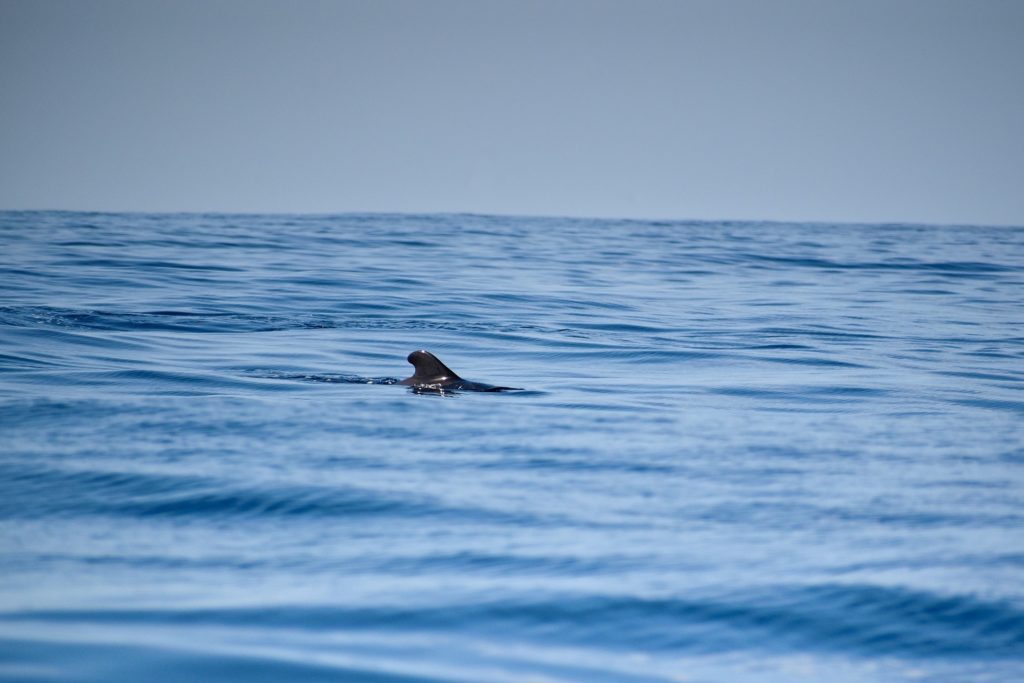 Snacks on board
I'm not one to think about eating on a whale watching tour, but sometimes you might feel like snacking or having a tea/coffee! Whale Wise Eco Tours provide organic, local or fair-trade snacks and beverages on board. This includes coffee, tea, juice, soda, water, nuts, fruit, cookies and chocolate. Zero Waste, no Plastic. This was perfect. I loved the reusable cups they served us coffee in! We also had the Whole Earth soda later and plenty of nuts.
End of tour
After about 1 and a half hours, the pilot whales went their way and we started to head back to port. The crew did sight a pod of spotted dolphins in the distance and other tour boats were going that way. They decided not to crowd around them and we didn't have enough time to wait. So we went back towards Los Gigantes.
Here you will have a lovely view of the cliffs and perhaps see some other wildlife. We spotted several Cory's shearwater (Calonectris borealis), which seemed to be hanging around a couple of bottlenose dolphins. Indeed, we also saw many bottlenose dolphins (Tursiops truncatus) who swam past our boat.
Photo Gallery
Here are some photos I clicked on tour! These are the pilot whales and Atlantic bottlenose dolphins that we spotted.
Whale Wise Eco Tours also had their own photographer on board! This was something new and a relief that I don't have to worry about getting the perfect pics. They email you the photographs (which also includes group/individual photos) soon after the tour, and this is included in the price. The crew is also equipped with a GoPro, which took beautiful underwater videos of the animals. In the video I uploaded to our YouTube, you can see the underwater clip from this tour!
Check out this additional gallery below of the shots taken by their intern Bert Soehn on our trip:
Booking a tour with Whale Wise Eco Tours
Tours can be booked all year round through their website, or by contacting them directly. Duration of the boat tour is 2.5 hours, with a maximum of 10 people on board. They say that all tours have guaranteed sighting for whales and dolphins! And in the rare case of not seeing any cetacean on your tour, they offer you a free tour the day of your choosing, or half the money back.
Pilot whale sighting probability on the morning tours are 99%, this reduces to half on the evening tour. We went on the 10:45 tour!
Prices: 75€ per person; 65€ per child (2-12 years); 750€ for a private tour.
Their Website: Whale Wise Eco Tours
.
.
That was our whale wise whale watching experience! We highly recommend Whale Wise Eco Tours if you visit Tenerife! At the moment they only operate in Tenerife. For Fuerteventura, I would recommend checking out my post on Dolphin Watching in Fuerteventura.
If you have any comments or questions related to this tour, feel free to drop them below!
Or come say hi on our support page @Buymeacoffee
Last updated on February 24th, 2023