A Staycation at Clarion Hotel Helsinki
Tyynenmerenkatu 2, 00220 Helsinki
We have had a sort of tradition these last couple of years, with a night's "staycation" at Clarion Helsinki on my birthday. Can I call it a staycation? How else do we describe this stay away in our own city? Clarion Hotel because we love the hotel, with the rooftop pool & sauna and the SkyRoom bar – a great place to spend a special evening in Helsinki. This is the third time we stayed there. By the end of this post, you'll find out if we will continue the tradition!
¡This post includes an honest review of our stay at this hotel and its services!
Location
The tall trendy hotel building can be seen on the way to the west harbour (Länsisatama), in the urban area of Jätkäsaari. It's impossible to not spot the hotel, which stands distinct from other buildings around. It's situated at the edge of the water in the inner bay area, with views over the city and the sea. There is a tram stop right in front of the hotel. Tram no. 6T and 7 take you there from Helsinki Central Railway station on the route to the west ship terminal (Länsiterminaali). There is no free car parking at the hotel, you may find free spots on the other side of the bay.
About the Hotel
With 16 floors and modern yet classy look, Clarion Hotel in Helsinki is a prominent sight. It only opened in 2016 and is awarded as a top business hotel. They offer standard rooms, superior rooms and suites. We stayed in the Standard twice and Superior once. This time we got the standard on the 14th floor, which was nice.
Clarion is part of the Nordic Choice / Strawberry Hotels and rooms can be booked via their website. Prices are pretty mid -range and quite good for a 4-star-ish hotel in Helsinki. You can get a room from 110€ onwards. If you are going to stay at any Clarion in the Nordic region again it makes sense to get the Strawberry Club membership, as this gives you discounts on bookings.
It meets 15/20 of the Helsinki Think Sustainably criteria. Which seems to be pretty good! I will talk more about this later in the post.
Climate change is one of the central drivers of change affecting quality of life globally. The city of Helsinki has set an aim to reduce emissions by 60 percent by the year 2030 and to be carbon neutral by 2035. This shift requires both major structural changes and everyday actions.

Think Sustainably
The SkyRoom
This feature of the hotel is what attracts even the locals here on any special occasion. It is one of the few bars with such a panoramic view over the city. Helsinki doesn't have many tall buildings and this is one of the highest points in that area. In the summer you can catch a lovely sunset and in winters just look at all the lights around. As you can expect, the drinks are highly priced, at around 15€ for a cocktail.
Our Experience
This year was a bit of a different experience as we stayed over on New Year's Eve rather than 10 days earlier on my b'day. It was also different because of the covid restrictions. The SkyRoom closed at 23:00. An hour before we could make the countdown, really?
We didn't leave the hotel at all (under normal circumstances it would be nice to drop in to some nearby pubs, karaoke bar or venues). But that's alright too – the stay in is short and the weather is usually crap in December, last year was a blizzard and this year it was just rainy with a few degrees.
Tips: Where to eat nearby
Previously, we have enjoyed a lunch at the very cool Cargo cafe near the hotel, which had to shut down this year and that's sad. Clarion's own restaurant was closed when we checked and we have never eaten there. Here are a few nice options you can find nearby in Helsinki:
Elfant Coffee & Wine is another restaurant where we enjoyed vegan Poke Bowls + miso soup lunch along with great coffee. They were closed this time so we got take-away from Green Hippo Cafe in Punavuori, not too far. We had a Buddha bowl and Avo toast. Yes Yes Yes is also a fine option. Mount Kailash Nepalese restaurant, near Clarion has many veggie options.
Find more options around using Abillion app, where we also review dishes! Info here.
Check-in at 15:00:
Did not expect this but we should have, because who else had the idea of a 'staycation' at Clarion on New Year's Eve? Not just the couple of us. There was a long queue to the check-in. We arrived there about 15 minutes past check-in time and the queue only increased.
The staff at the reception counters were occupied and there was no one to guide people who arrived in to find a confusing situation. We just stood in what seemed to be the queue and patiently waited over half an hour. After that, there was also a line to the 3 working lifts. When we finally got to our room it was past 16:30.
It felt like our stay was already ending and there was just enough time to hang out at the SkyRoom. We decided to skip the sauna and pool altogether. The hotel was crowded this time and many were headed to the sauna.. you can see people in bathrobes as they catch the elevators to the top floor (where the pool & sauna, and also the SkyRoom is located).
There's a gym area with basic equipment. All included in your stay, no extra charge. The saunas are separate for women and men – with also nice views. The pool area is not that large and part of it is open-air, so it can get pretty cold and windy. The water is kept from getting too cold and at one end of the pool is a transparent bottom! You can look all the way down. I have no photos from here – you need to go experience it!
Tip: Go for the sauna and swim in the morning before breakfast if possible. It is refreshing and less busy.
At the SkyRoom:
We arrived just before 8PM on New Year's Eve when a line started to form. They were limiting the people to only 1 group per table. Sad for all those who couldn't enter later. The place was closing in a couple of hours anyway. We got one of the new seating style 'couple booths' facing front.
The decorations change every year and have always been great but this year it was minimal. The dj music was alright, better than the last year's 'house music' which was awkward to dance to. Order at the bar. The bar advertises their own drinks but you can ask them for regular ones too.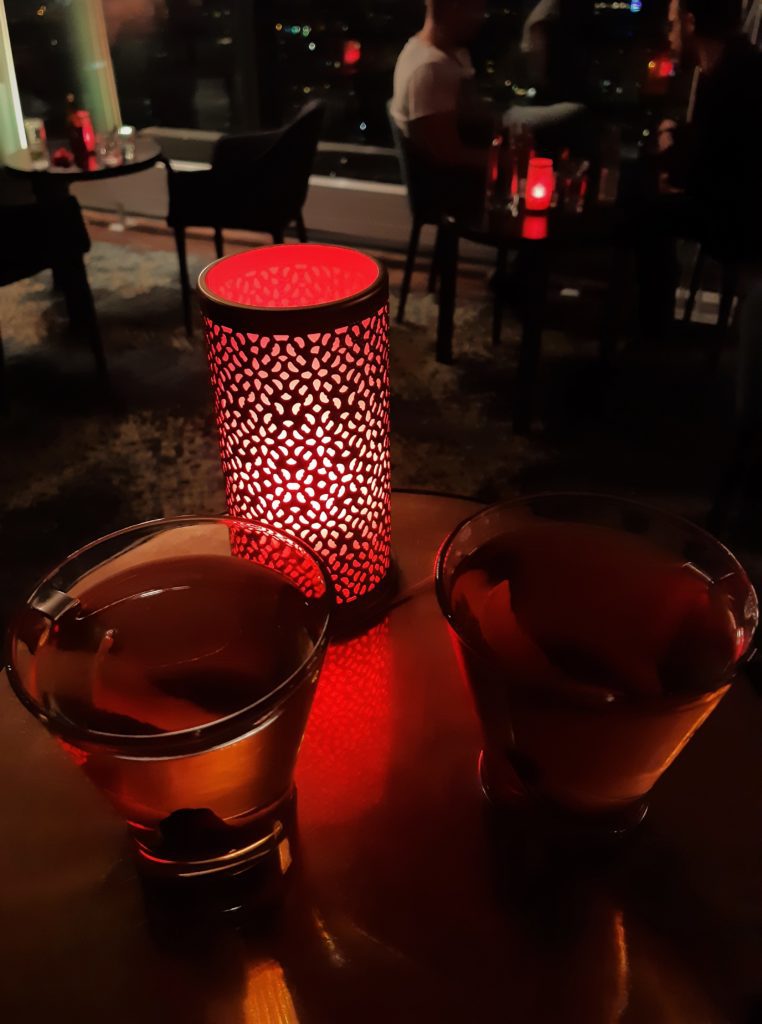 We got a rhubarb G&T and a ginger – rum based drink. Real nice! At 22:00 they stopped serving drinks, turned on the lights and turned down the music – no fun allowed any more. We looked at some of the early fireworks over the city before we had to vacate. Green lasers from the Olympic stadium were seen over the city, replacing the public fireworks. Even before the clock struck 11, the staff started to hush everyone away.
Back in the room, we ate our dinner (pulled oats/nyhtökaura subs from the nearby store ..delish) and waited for the countdown. Around midnight a thick fog suddenly appeared in the city. Heard some more fireworks and that was that.
Standard or Superior Room
After staying in a Superior room last year, we didn't notice much difference so we just took the Standard double this time. Only bathrobe and slippers are missing. You could also pay a higher price for a Superior View which guarantees one of the top floors but the view you get, city or sea, depends on luck.
The room interiors are basic and neat with a comfy bed with huge pillows! Surprisingly didn't give us a neck ache and we slept well. The bathroom was probably what is better than average hotels with a well functioning shower. They don't stock one use soaps, toothbrushes and toothpaste (we bring our own, right?). Plus point for the Rituals bathing products. There is a poorly stocked mini-bar in the room.
Bring your own snacks too. There is a K-Market grocery store across the road. Breakfast in bed costs as any other room service at this hotel (we have never used it).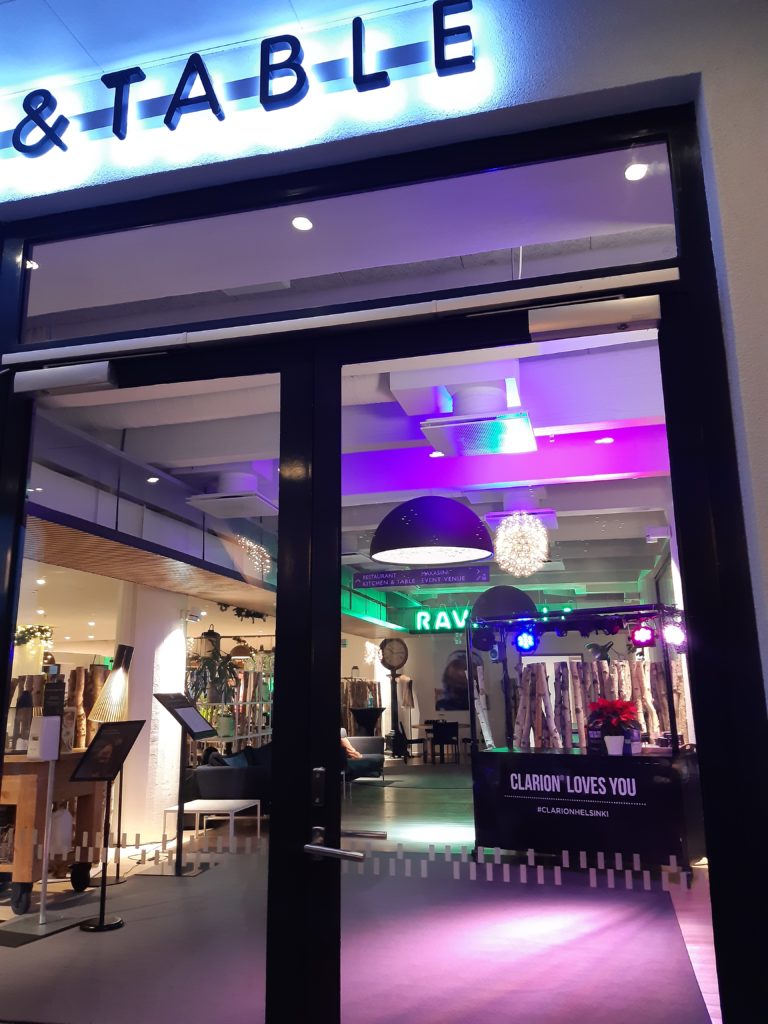 Hotel Breakfast
Breakfast is included with your stay at the hotel and is served at the Kitchen & Table restaurant downstairs. All hotel buffet breakfasts seem to be very standard. The one at Clarion is no exception. It is disappointing to see that after years nothing much has changed in what they offer at these hotel buffets. Even at Clarion Helsinki, that strives for sustainability or claims to 'love the future' (they have little notes in the room saying stuff like that). I remember that when we stayed here in 2018, there was also a small blue handbook in the room with facts on what's sustainable, eco-friendly food and habits. Lodging that respects nature.
We went in for the last breakfast time (11AM on Saturday) and it was pretty crowded. I hate when there's no obvious organisation to the food and had no idea where we are supposed to start. People were randomly moving about. Again there wasn't any staff to guide or give you info if you needed.
Where is all the plant-based food?
I thought about cereal, porridge, fruits & nuts, croissants and pancakes. No sign of dairy/egg free croissants or pancakes. There was a tiny area saying 'dairy free stuff here' with only one kind of plant based cheese and a crumble cake. We didn't see plant based milk or yoghurt there. Found Oatly barista next to the coffee machine and used it for muesli.
We just had a bowl of cereal, oat porridge and some dried fruits. Coffee and fruit juice. Was hoping there would at least be some fresh fruit salad but there wasn't. Maybe it was hidden behind all that non vegan stuff that I couldn't look at. Why don't people see pieces of meat for what it really is – chopped up dead animals. According to the Think Sustainably criteria, Clarion has enough variety of vegan options available, but that wasn't the case.
Clarion loves the future, but do they really love the environment? What about animals? Having just a few dairy/egg/meat free options does not make you sustainable. Consumption of animal products needs to reduce drastically and having them there along with a tiny bit of vegan options will not change much. People will continue to eat dairy/eggs/meat because institutions like this keep offering it to them. Whoever thinks such a breakfast is nice, please be mindful of what you eat.
Also saw a lot of food wasted on plates. Honestly, I felt a bit hopeless and would have rather skipped going to this breakfast.
Staycation at Clarion Helsinki – final say
After this experience, we would like to say that Clarion Helsinki has some great features and the Sky bar remains one of our favourite places. Other than that it was a nice night, but not nice enough that we would come back for a fourth time. Maybe many years later, maybe. Staying at the hotel gave the feeling of travel, which was missing this year. We could think of no better idea for New Years eve 2020.
It's a neat hotel with good views and a fancy bar. Great for a short stay. The hospitality could be better. The biggest disappointment was the breakfast. I really hope they change things and set a good example. You know, you can't save the planet if you're not even willing to change what you eat for breakfast. In 2021, we will happily support only those places that are truly high on sustainability – with ethical and planet positive accommodation + menus.
.
.
---
Our recommendations for dining and travel planning resources:
*affiliate link
---
Last updated on August 19th, 2023