Top 10 things to do in Pyhätunturi, Lapland
If you dare travelling to high northern latitudes, bear freezing temperatures, stay in isolated places, walk through fluffy white snow-piles, welcome to Lapland! This region above the Arctic Circle is truly magical in winter. If you visit Finland in winter, I highly recommend going to Lapland. There isn't a whole lot of snow in Helsinki as compared to up north, where there is amazing meters deep fresh snow you will want to jump into. Helsinki also feels colder due to icy winds and coastal climate. I prefer the winter atmosphere in Lapland. Spend a couple of days in the capital, then hop on a train to the north! In this post we show you a list of things to do around Pyhätunturi, Lapland. A place we have travelled to several times.
Check out our previous post on how to prepare for a trip to Lapland. Hover over the map of Finland to see the locations I'm going to talk about:
Location
Pyhätunturi is part of Pyhä-Luosto National park in Lapland, Finland. 'Tunturi' is a Finnish word that means 'fell', a term for a hill, or small mountain with treeless tops, commonly found in Scandinavia. Pyhä – Luosto is less than 2 hours NW of Rovaniemi by road. It's known for it's skiing hill as well as Europe's only (active) Amethyst mine. Pyhätunturi is a lesser known tourist spot and is well worth checking out. The Siberian Jay is the emblem of this National Park.
How to Get There and Around
Assuming you're already in Finland, and you start the trip from Helsinki or Tampere, you can take the train to Rovaniemi. Kemijärvi is the other closest train station to Pyhä. If you are arriving from abroad, you probably land in Helsinki or Rovaniemi International airport.
VR is the national train operator. There are good discounts sometimes (Saver ticket) and we got roundtrip tickets for about 60€/ person Helsinki-Rovaniemi. EU students can get the student price. Try to book at least a month before your journey. Find VR train schedules and prices.
Our train left from Helsinki Railway Station at 6:23AM. The train journey was quite comfortable and I highly suggest taking the train instead of a bus (I have taken the bus a couple of times and it was not fun). The trains aren't exactly fancy but the trip went smoothly. It was not crowded at all. The journey included one change of train without hassle or waiting and we reached Rovaniemi in 8 hours. Train is also the most ecological transport option.
Rent a car from Rovaniemi station – this is the most convenient and probably the only way you can get around Lapland (unless you have a package tour with shuttle buses taking you from point to point). We rented the small VW Polo from EuropCar rentals – it is easy to book online, beforehand. It takes a drive of about 1hr 45min to Pyhätunturi via E75. The roads in Lapland are quite safe and well-maintained, even in winter. The only danger is animals crossing. Reindeer may wander on to the road and we need to be alert at every moment.
Featured below are 10 things to have on your itinerary!
1. Stay in a Cosy Log Cabin
The best experience should include a stay in a traditional log cabin, where you can sit by a fireplace and enjoy a private sauna. You will most likely be able to rent a whole cabin to yourself or share with a group. Prices are more affordable if shared but otherwise may be over 100€ per person/night.
We stay at the family cottage at Pyhätunturi, called Vierihippu. It's cosy and just the perfect escape for your winter getaway in Pyhä – only a short drive away from the skiing centre. Enjoy good views by the lake Pyhäjärvi and views of Pyhätunturi and Soutaja fell.
Cottage Vierihippu: Information and Booking
Even though it is a traditional cottage, you can find all the modern facilities needed for a comfortable stay – kitchen appliances and cooking utensils, washing machine and dryer etc. One thing you need to pay extra for are towels and bed linen, along with the booking, if you cannot bring your own.
The cottage is available to rent through the online system, you can find links to their webpages, how to book it above. If you would like to stay here or have any questions, feel free to drop me a comment!
2. Go Skiing or Snowboarding
Pyhätunturi is, in fact, a ski centre where Finns and foreigners alike come for their skiing holidays. Like with most destinations in Lapland, downhill skiing is the main activity in Pyhä. Downhill skiing in Finland isn't especially cheap. Day tickets for the Pyhä lifts costs around 45€, while buying tickets for consecutive days gives some discount. Renting skiis/snowboard + boots and helmet will be almost double that. Friday evenings between 17.00-20.00 have special offer, you'll get lift tickets for 10€ and gear for another 10€. The high season is during February – Early April.
If it's your first time – I suggest starting with the baby slope right in front of the ski rental at the bottom of the big slopes. This is what I did with snowboarding and I just practiced for a few hours while falling a lot. Downhill skiing here requires some previous experience. Steep slopes like the red or black are not recommended if you aren't experienced. A cheaper option is cross-country skiing. Skiis, sticks and shoes can be rented for 29.5€, 37€, 64€, for 3 hours, one day and two days respectively.
Pyhä Ski Centre is the first Carbon Neutral Ski resort in the Nordic! They run on renewable energy. Read more on their webpage.
3. Take the ski lift to the top of the fell
I totally understand if you don't want to go downhill skiing. Believe me, going skiing downhill on this fell is not my thing either. As an alternative activity, why not just take the ski lift all the way up to admire the view, without all that skiing gear? It's possible and worth it because on the top you get to see a spectacular panorama view at 500m, especially before sunset (around 4:30PM in January). A one-time ticket to the very top costs about 12€ and you can come back down with the same. On top of skiing hills, there is typically a café-restaurant where people can relax in between skiing. Atop Pyhätunturi you will find Ravintola Tsokka.
4. Visit the Naava Nature Centre
A nice place to check out and suitable for everyone, esp. families with kids. A nature centre with nature exhibitions and info on the history/geology of Pyhätunturi. It's right near Pyhä ski centre and located in a modern building. It's free and they have different exhibitions like the northern lights show, nature documentaries and taxidermized animals :0. In the souvenir shop you will find some great stuff, many ecological and zero-waste products. Cafe Loimu there serves lunch and fast food – they have vegan options on the menu (marked V), and their vegan burger is pretty good!
5. Explore an Amethyst Mine!
Did you know the only active Amethyst mine in Europe can be found in Finland? It is located in a fell called Lampivaara in Pyhä-Luosto National Park. There are tours to visit the mine in winter and summer. We have been there in winter and hiked up the fell through snowy forests.
A guided tour begins at the Lampivaara café, about mid way up the hill, and from here you have to board a snow Pendolino takes you to the mine. The tour costs 34€/adult and can be bought on their site or the Amethyst shop at Luosto centre (check it out also for some nice Souvenirs!).
You can also take the Pendolino from the beginning, from the Parking Lot at the bottom of the fell. For us it was possible to hike up and we recommend it to all those who are well and able. It's a 2.5 km walk up along the cleared path along the forest. Avoid walking on the skiing tracks and follow the general sign towards the mine up slope. It's really refreshing and with amazing snowy forest views all around. Besides, the tour with the Pendolino ride from the bottom costs double the price.
Once at the mine, a guide takes you into the mine where you also have a chance to search and dig for Amethysts. They also give you a short geological lesson about the formation of the Amethysts there. This mine is quite small and they only use hand tools and not machines for mining the gems. We are allowed to keep one of the small Amethysts we dig up! An amazing experience, definitely not to miss.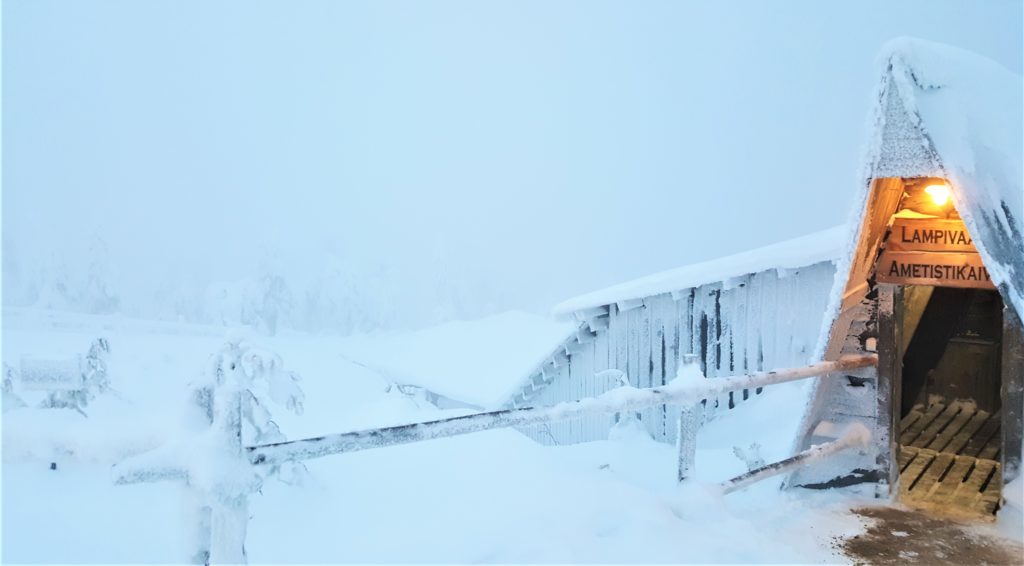 6. Relax in a Spa or Jacuzzi
After lugging around in the snow and facing icy temperatures, there's something very relaxing about going to a spa or sauna + jacuzzi. This time J booked us an evening at Pyhä Igloos sauna and jacuzzi. I had no idea what to expect because I didn't know about the plan and hadn't heard about the place – it turned out to be a lovely evening.
Just remember to take slippers and a beanie for the outdoor jacuzzi. The water is heated, of course. The turn lasts 1:30 hours and the price starts from 119 euros per session. It's a private turn and we get the whole sauna, jacuzzi and lounge area (with kitchenette and fireplace) to ourselves!
Guys, if you are reading this and thinking of planning something romantic on your trip, this is perfect! Book a private Finnish sauna and outdoor jacuzzi on their page. They also have Igloo cabins if you want to spend a night there. The place is right near the ski slopes at Pyhätunturi.
In Pyhä-Luosto, there's another good option – the Amethyst Spa in Lapland Hotel Luosto. It's special because of, well, Amethysts. This rare purple quartz is said to have healing, and purifying effects and claims to help promote spiritual wisdom as well as sobriety. You can buy your own polished amethysts at the souvenir store. The spa has some basic services and sauna for a relaxing experience.
7. Follow the Hiking Trails
Go out and explore, put on some snowshoes! Even in winter there are hiking opportunities here at Pyhä. There are well marked trails to follow. Find free guides and maps from the Naava Nature Centre. You can also rent a Fatbike and go biking on these trails!
We've hiked one of the routes taking us towards Isokuru Gorge – the largest in Finland (220m deep), a major geological sight. In winter, it's not possible to go down to the gorge due to risk of avalanche. In summer, it's another experience as you can explore the mire and waterfall at Pyhä-Luosto National Park and it's thousands year old forests on duckboard trails.
8. Visit nearby towns
You have come this far, why not visit some other places around?
Rovaniemi: You probably go through here at some point. The biggest city in Lapland and home of Santa. There is Santa Claus Village, a nice Christmas-y and tourist-y place. Yes, you can meet the real Santa there, I have! It's free (but a photo with him costs about 25€) and you have to queue.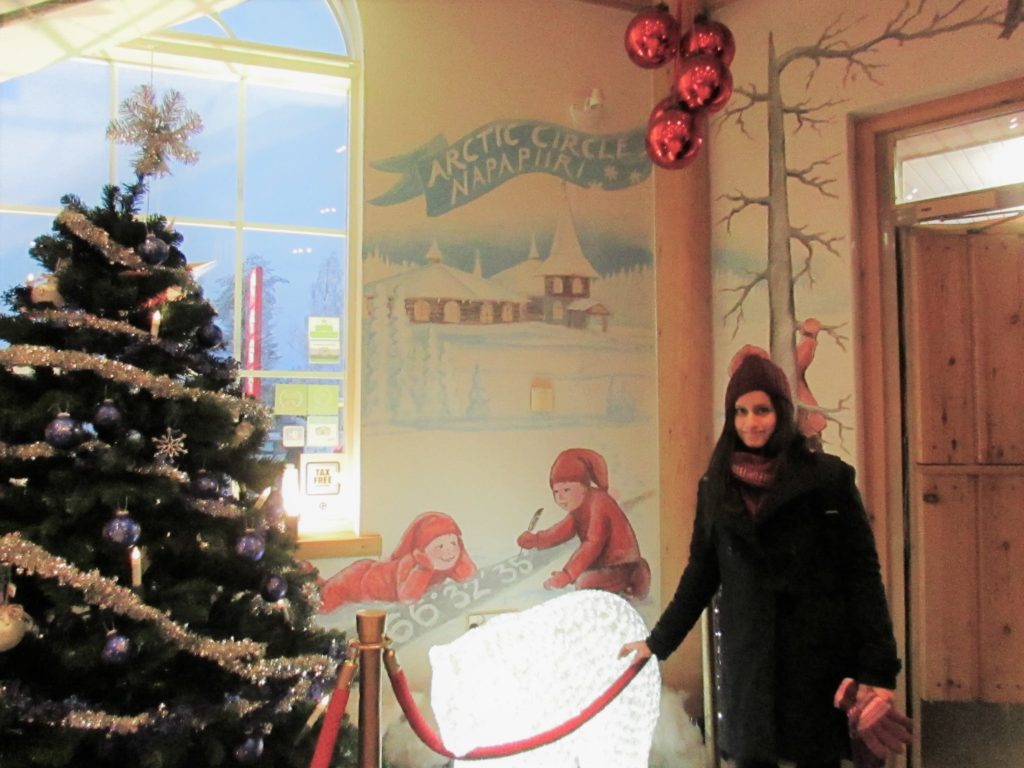 Saariselkä: I love this little village. It was the first place I stayed in Lapland, back when I made the first trip here in December 2015 on a student group tour. There is hardly any daylight in December but there are lights everywhere and the snow makes it amazing. Also one of the best places to spot the Auroras. The northernmost Ski centre of Europe at Kaunispää fell can be found here. This time in Saariselkä, we stayed at the Northern Lights Village.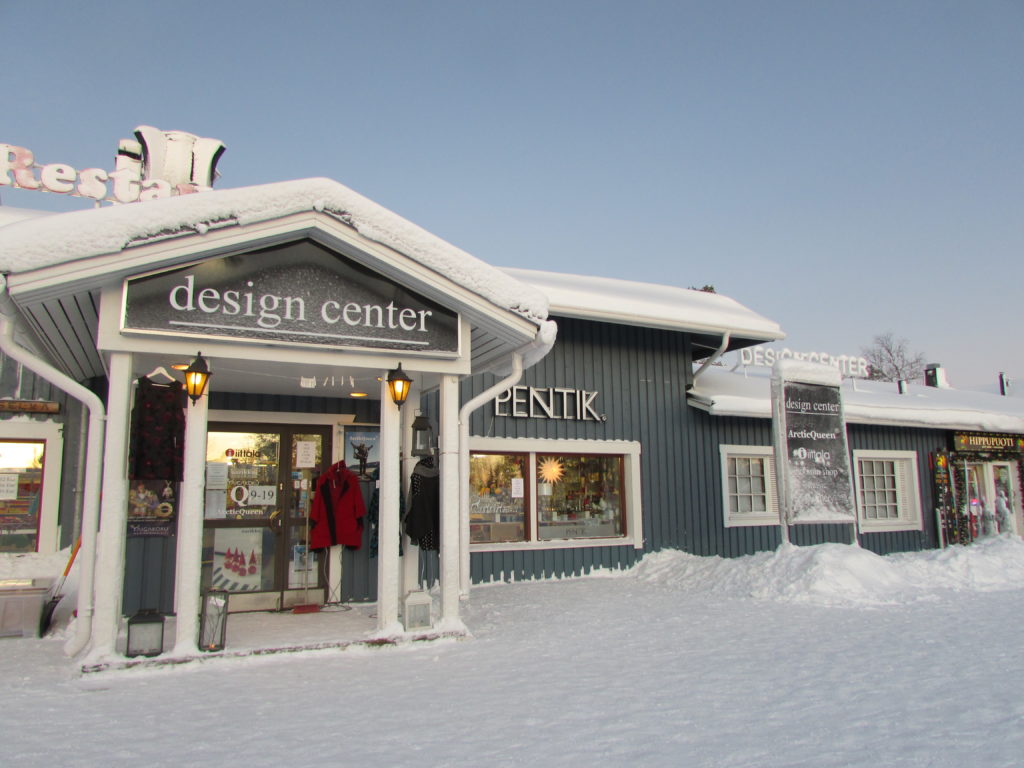 You can travel further up north on the road to Inari and then travel to the Norwegian border, if you like. Some villages at the border are Utsjoki (Finland) and Nuorgam, for example. I have been to Nuorgam on the first trip, when we were supposed to have a day trip to the Norwegian town of Bugøynes and swim in the Arctic ocean! But our tour bus got held up halfway as another bus was stuck on the road and we had to turn back.
Levi: A popular ski resort in Finland. We spent a day there and the views on the Levi fell are amazing! You can drive with a car all the way up and the snow loaded trees as quite sight! Check out the video we took below.
9. Aurora Hunting
This is why you're really travelling to Lapland, right? The thing is, you probably expect to see the Northern Lights once you are above the Arctic Circle, but it does take a bit of hunting. Let's hope you have a cloudless day or two because otherwise it's almost impossible to see anything. The best months to see the Auroras are between late September and March – when there is a lot of darkness but October and March are the best months in terms of clear skies. December- January tends to be snowy. My previous post on the Auroras has some tips on spotting and photographing. Here at Pyhätunturi, you have a fair chance of seeing the Northern lights!
10. Enjoy the Silence
This is the last one, not something to do but to remember and to be aware – be present in the moment and enjoy the silence in Lapland, for you will find none such in many other places. The silence and stillness is so amazing that it feels magical. I really hope you will experience this magic of Lapland at least once in your life. It keeps calling me back!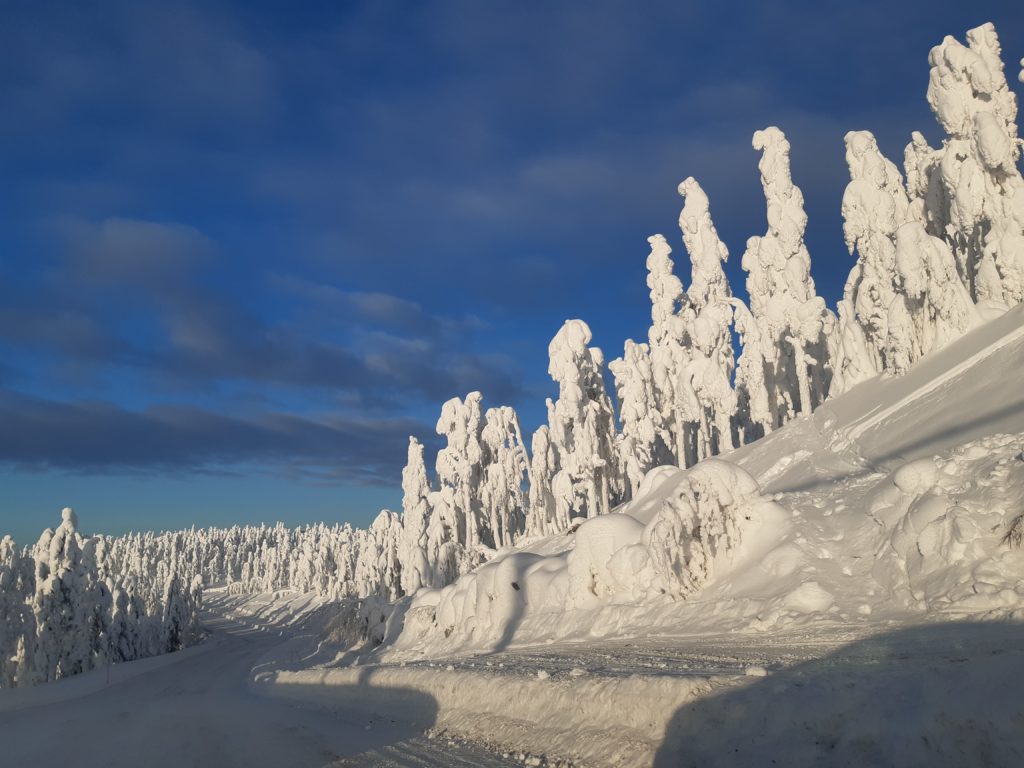 .
.
Pin it!
Last updated on September 18th, 2023